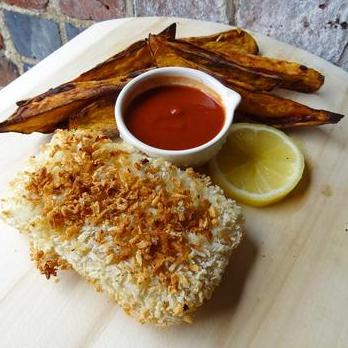 It could well be the nation's favourite dish, and it's almost certainly our most iconic – the UK just wouldn't be the UK without a helping of fish and chips. Too often, however, beer-battered fish is excessively greasy. Add to that a portion of deep-fried chips and you leave the table feeling heavy and well…pretty ick. There's nothing wrong with having fried food every now and then – sometimes we eat food to nourish our body, at other times to feed our soul. Your standard fish 'n' chips from the local chippy undoubtedly falls into the latter of the two categories.
Our baked version, however, is a completely different kettle of fish (sorry).For starters, cod is a good source of heart-healthy omega-3 fatty acids and is especially rich in lean protein (one portion provides women with 35 percent of their recommended daily allowance) and vitamin B-12, a nutrient essential in keeping our cardiovascular system on track. By the time it's battered and fried, that gorgeous piece of fish might as well be a dry old cracker in terms of nutritional value. Baking it in the oven however, requires little added fat without compromising on taste or texture. That's why, for us, baked Panko wins hands-down when it comes to the battle of the batter.
Ingredients:
3 large sweet potatoes
Olive oil
Sea salt and black pepper
4 fillets of cod
30g whole wheat flour
2 large egg whites
150g panko breadcrumbs
Dr Will's Tomato Ketchup
Lemon wedges, for serving
Method:
Preheat the oven to 200°c. Line a large baking tray with foil (shiny side up) and lightly coat with oil.
Scrub the potatoes and remove the pointed ends. If you prefer, peel your potatoes but be aware that the skins are high in fiber, potassium and iron, and packed with vitamins and antioxidants! Slice the sweet potatoes in half lengthways, then cut each piece into chunky wedges.
Place the wedges in a large bowl. Add the olive oil and seasoning, and mix well, making sure each wedge is evenly coated.
Arrange the sweet potatoes in a single layer on the prepared tray. Bake for 25 minutes, turning once halfway through. Remove from the oven and push the wedges to the outer edges of the baking tray.
Meanwhile, place the flour in a large, shallow dish (a pie dish works well) and season with salt and pepper. In a second dish, briskly whisk the egg whites until foamy. In a third dish (shout-out to our dishwasher), add the Panko.
Dip the fish fillet in the flour, coating all sides (we used cod but pollock, halibut or any firm, white fish fillet would work equally well). Shake off any excess, then dip in the egg whites to moisten, and finally dip in the Panko. Press the Panko onto the fish's surface so that it sticks to all sides, then place the fish in the empty space on the baking tray. Repeat with the remaining fillets.
Bake the fish and potatoes together for a final 15 minutes, until the fish is golden brown and flakes easily with a fork. Serve in a wrapping of rustic brown paper or faux-newspaper, but we suppose a plate will also do. 
Serve with lemon wedges and a hearty dollop of Dr Will's Tomato Ketchup. Dive in!
Serving up with wholesome, baked sweet potato chips gives you a revamp of the British classic, from a pile of artery-hardening grease to a healthy weeknight meal that can be cooked on a single baking tray. Move over Friday, Monday night is fish night.
Leave a comment