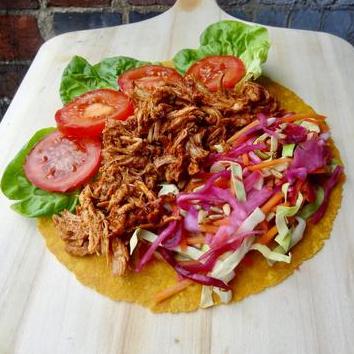 BBQ Pulled Pork and Rainbow Slaw Wraps
Do you drench your summertime favourites in good old BBQ sauce? If yes, you've found yourself a sure-fire way of sabotaging your healthy eating. Just like other sweet and salty condiments (ketchup, we're looking at you), there's a whole load of added sugar and salt in your classic barbecue sauces, jacking up the calorie and sodium count faster than you can say, "Pass me a sausage!"
However, with our all-natural BBQ Sauce, you don't have to banish it from your picnic menu. The healthy British barbecue has been saved...the only thing stopping you now are the inevitable summer showers.
Unlike selfie-sticks or Pokémon Go, American food is a trend which continues to thrive. And while mac and cheese can be a little too stodgy, and hot dogs are a little too, well plastic, our love for the barbecue glows hot and bright as a burning coal.
The only respectful way to cook your hog, of course, is to dig a deep pit, stack it with seasoned wood, and keep it burning through the day and night so as to gently smoke the meat. If you are unable to commit to such endeavours, you can stick to your trusty oven, just as we did.
Ingredients (serves 4):
For the BBQ Pulled Pork:
2.5kg boneless pork, shoulder skin removed
1 tbsp mustard powder
1 tbsp smoked paprika
1 tsp ground black pepper
Good pinch of salt
200ml water
5 tbsp Dr Will's BBQ Sauce
For the Rainbow Slaw:
2 large carrots
450g red and white cabbage
1 small red onion
5 tbsp lemon juice
3 tbsp olive oil
½ tbsp apple cider vinegar
½tsp Dijon mustard
Large pinch of salt
Mixed seeds (optional)
BFree Sweet Potato Wraps
Iceburg lettuce
Beefsteak tomatoes
Method:
Preheat the oven to 150°c (remember, it's low 'n' slow). Mix the mustard powder, paprika and ground black pepper with a good pinch of salt. Pat the meat dry with a paper towel and then rub the spice blend all over, making sure you reach all the crevices.
Pour 200ml of water into the bottom of a large roasting tin, place the seasoned meat in the centre, cover tightly with foil and place in the oven. Bake for 4 and a half hours, until the pork is tender and falling apart.
While the pork is roasting, make the rainbow slaw. Using a grater, shred the carrots (or julienne with a sharp knife) and place in a medium serving bowl. Finely slice both the white and red cabbage, and the red onion and add to the grated carrot.
To make the dressing, in a small bowl, combine the lemon juice, olive oil, apple cider vinegar, mustard and salt. Whisk until thoroughly blended. Drizzle the dressing over the slaw and toss until all the ingredients are lightly covered. Garnish with mixed seeds (we used pumpkin and sunflower, for added crunch) and place to one side.
Remove pork joint from the oven and pour away excess juices. Smear meat with Dr Will's BBQ Sauce and return to the oven for a final five minutes. Remove from heat when sauce is thick, glossy and bubbling. 
While the pork is still warm, you want to 'pull' the meat. Using two forks shred the meat into bite-sized pieces, discarding any large pieces of fat and mixing well with the smoky BBQ Sauce.
Time to construct your wrap. Here we used BFree Sweet Potato Wraps which are gluten-free, have no added sugar and are a good source of fibre and antioxidant Vitamin E. If you've only got whole wheat on hand, or don't want to stray from your trusty plain white wraps, fear not – the wrap is merely a vehicle for the BBQ goodness within. Layer your lettuce and sliced tomatoes, followed by the raw slaw and pile a generous helping of pulled pork. Wrap carefully, making sure to seal in the yummy concoction.
Tuck in. Bibs entirely optional. 
Rich and juicy, classic American-style pulled pork has captured our hearts – and our stomachs. Pulled pork, we think, is American cooking at its very best – meat cooked so gently that it can be teased apart by forks, and served with a crunchy, tangy slaw.
1 comment
I made this with your 'Easy Baked Fish with Garlic and Basil' and together it was one of the best meals I've ever made. Will definitely be on my monthly meal rotation 🙂 Can't wait to try your other recipes. We are also offering online meat delivery Services. please visit: https://www.beckandbulow.com
Beck & Bulow
September 06, 2023
Leave a comment