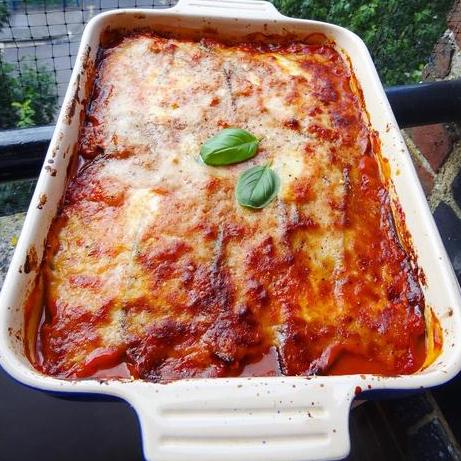 Olive oil sits at the heart of the Mediterranean diet, which is entirely fitting seeing as this syrupy liquid is associated with a lower risk of cardiovascular disease and deaths from all illnesses, and has been linked to lower blood pressure.
Saying that, many recipes for Aubergine Parmigiana call for the aubergines to be fried in copious amounts of the stuff before layering. Though this gives the dish an outrageous richness, it turns a healthy veggie-based meal into a chunk of stodge. Lightly oiling the sides of your aubergine slices and roasting them until soft, as we've done, make them distinctly less greasy without compromising on texture or flavour.
Like the peach, the noble aubergine has taken on the most unnoble of meanings in the world of emojis. Here at Dr Will's we decided to look past its rather rude connotations to create a hearty, meat-free dish that makes a great summer suppertime staple.
Aubergine parmigiana (aka melanzane alla parmigiana, or eggplant parmesan to our friends across the pond) is Mediterranean comfort food at its most sublime, no matter what you choose to call it.
Fresh and in-season tomatoes will make this recipe all the more delicious, but for budget and ease, tinned chopped tomatoes happily do the trick. Likewise, for a variation of the traditional version, you can try using other roasted Mediterranean vegetables such as peppers, courgette and fennel. But for us, it's layers of cheese and aubergine that make this bake bellissimo.
Ingredients (serves 8):
5 medium aubergines
Olive oil
3 garlic cloves
2 x 400g tins of chopped tomatoes
1 bottle Dr Will's Tomato Ketchup
1 tbsp red wine vinegar
2 bay leaves
2 tsp dried oregano
Large handful of fresh basil
250g firm mozzarella
100g parmesan (or veggie alternative)
Method:
Preheat the oven to 160ºC (fan). Top and tail the aubergines, then cut lengthways as thinly as you can manage (about ½-1cm thick slices). This bit can be quite tricky, but once you've had a few attempts you should get the hang of it. If you don't - fear not, it'll taste just as glorious either way.
Brush both sides of the slices with olive oil and season. Place them in a single layer on non-stick baking sheets and cook for 30 minutes, turning once, until the aubergine slices are tender and golden. You may have to do this in batches.
Heat a glug of oil in a pan and fry the garlic for a minute, watching carefully to make sure it doesn't burn. Add the chopped tomatoes, Dr Will's Tomato Ketchup, vinegar, bay leaves and oregano. Gently simmer for 20 minutes until sauce is thick and glossy. Stir in the chopped fresh basil leaves and season well.
Put a few spoonfuls of the tomato sauce in the bottom of a large, ovenproof dish. Spread to cover the entire base so that your aubergine doesn't stick. You didn't go through all that oh-so careful slicing to lose your aubergines to the base of an oven dish. Cover with a layer of aubergine followed by an even scattering of mozzarella, then repeat, ending with a thin layer of sauce (you should have 3 layers). Generously sprinkle with parmesan, or a vegetarian Italian hard cheese.
Bake for 35 minutes, until the top is crisp and golden, and the Dr Will's-spiked tomato sauce is bubbling. Rest for 5 minutes (can be testing – try to resist, it's worth it we promise) and serve up in generous slabs, with a fresh green salad. If you're lucky enough to have leftovers, this dish is delicious served cold, but also reheats well. 
Perfectly charred aubergine slices layered with a rich tomato sauce and ooey-gooey mozzarella – what's not to love? Ideal for entertaining, this moreish bake is a comforting meat and gluten-free alternative to the more popular Italian classic, Lasagne al Forno.
Leave a comment