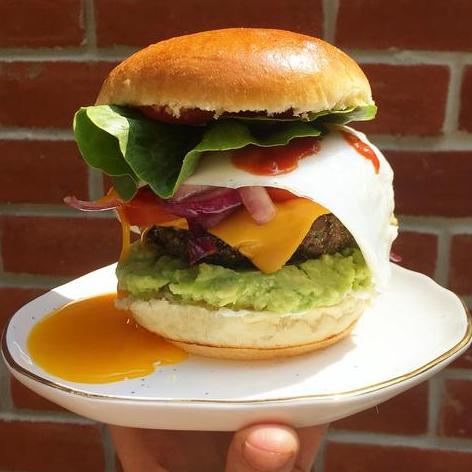 We understand that our topping choices might not be to everyone's tastes so we've come up with a few combinations that we think might tickle your burger-topping pickle.
- Caramelised white onions, blue cheese and crispy bacon
- Creamy slaw, Red Leicester cheese, rocket and pickled onions
- Crispy bacon, mozzarella, basil pesto, and saladOnion ring, streaky bacon
- American cheese, pickles, BBQ Sauce and mayo
All this hot weather we've been having means one thing…barbecues, and lots of them. And with barbecues comes all the best kind of food. Plump sausages, stacked chicken kebabs, tender fish fillets but best of all, big fat juicy burgers. Nothing beats a proper burger.
Even if you tuck into caviar and oysters every weekend, we bet that the prospect of a perfect patty gets that tummy rumbling and those mitts reaching for the nearest bottle of sauce (Dr Will's, we hope). But with amazing burger restaurants on every street corner, we're no longer satisfied dining on any old patty and bread bun, and that, lovely readers, is where this week's recipe comes in.
This week we bring you the ultimate burger. Great meat – charred, slightly crunchy exterior with a soft juiciness within – and what we believe is the perfect combination of toppings, all contained in a fresh brioche bun.
Ingredients (serves 4):
800g minced chuck steak
2 tbsp mixed peppercorns
Olive oil
1 large red onion
Pinch of salt
4 slices of mature cheddar
1 large avocado
Juice of ½ lemon
2 globe tomatoes
4 medium eggs
Little gem lettuce
4 burger buns
Dr Will's Tomato Ketchup
Method:
For the best burger, head to your local butchers and ask them to mince 800g of chuck steak for you – this cut has the best balance of fat and flavoursome meat.
Roughly crush the mixed coloured peppercorns and place in a small shallow dish. Divide the meat into four equal pieces and, with wet hands, shape each piece into a ball, then press into flat patties roughly 12cm wide. You want them slightly bigger than your buns, as they will shrink when cooked. One by one, roll the patties in the crushed peppercorn mix, coating the outer edge lightly. Place the peppered patties on a plate (bit of a tongue-twister that one), cover and leave to chill in the fridge while you prepare your(self) other ingredients.
Next, finely slice the red onion and place in a heavy based pan. Add olive oil and a generous pinch of salt and cook on a medium heat for 15 minutes or until rich, golden and softened.
When you're ready to cook your burgers, get your toppings ready. We highly recommend getting this bit out of the way early to avoid burger construction stress (very serious affliction) later in the process. Wash and dry your lettuce leaves, slice the tomatoes and your burger buns. Place the peeled and de-stoned avocado in a small bowl, add the juice of half a lemon and a pinch of salt, and mash with a fork to the desired consistency. It can be as smooth or as chunky as you like.
Preheat your oven to 170ºC on the grill setting. Remove your burgers from the fridge, brush lightly with oil, and place on a grill rack. Top tip: if you don't already, line the base of your tray with aluminium foil to catch any running fat or oils, and save up on washing up. Grill burgers for 12 minutes, turning occasionally until perfectly cooked and the juices run clear.
With only T-5 minutes 'til B-Day, on a medium to low heat add enough olive oil to lightly coat the base of a large non-stick pan (about 1 tbsp). Crack the eggs into a pan and cook until the tops of the whites are set but the yolks are still gloriously runny.
Add the sliced cheese to the tops of your burger patties for the final minute of grilling so that it's soft and just starting to melt. We used pre-cut slices of mature cheddar (cheers, M&S) but feel free to use any cheese of your choosing. Red Leicester would be equally as delicious, as would crumbled Stilton. Brie would be nice as well. Or Goats cheese. Mmm cheese. Apologies, we've lost our train of thought.
To build each burger, add a quarter of the smashed avocado to the base of the burger bun. Top with a cheesy, peppery steak burger, a few slices of tomato and a quarter of the caramelised red onions. Using a spatula, remove the eggs from the pan and add to your (tower) burger. Follow with a leaf or two of crisp lettuce, a good old dollop of Dr Will's Tomato Ketchup and your patiently-waiting bun top.* 
Gently press together and dig in. There might not be much room left for dessert, so treat yourself to a nap instead – you've earned it.
*Architecture degree recommended but not required.
In Britain, we've found that barbecues are generally rather manic attempts to cook meat before the menacing clouds above (where do they suddenly appear from?) begin to darken and water starts falling from the sky. That's why we've grilled our burger patties in the oven, but feel free to brave the British elements and cook them on the coals if you think the clear skies can hold out. Either way, you'll be eating well tonight.
Leave a comment