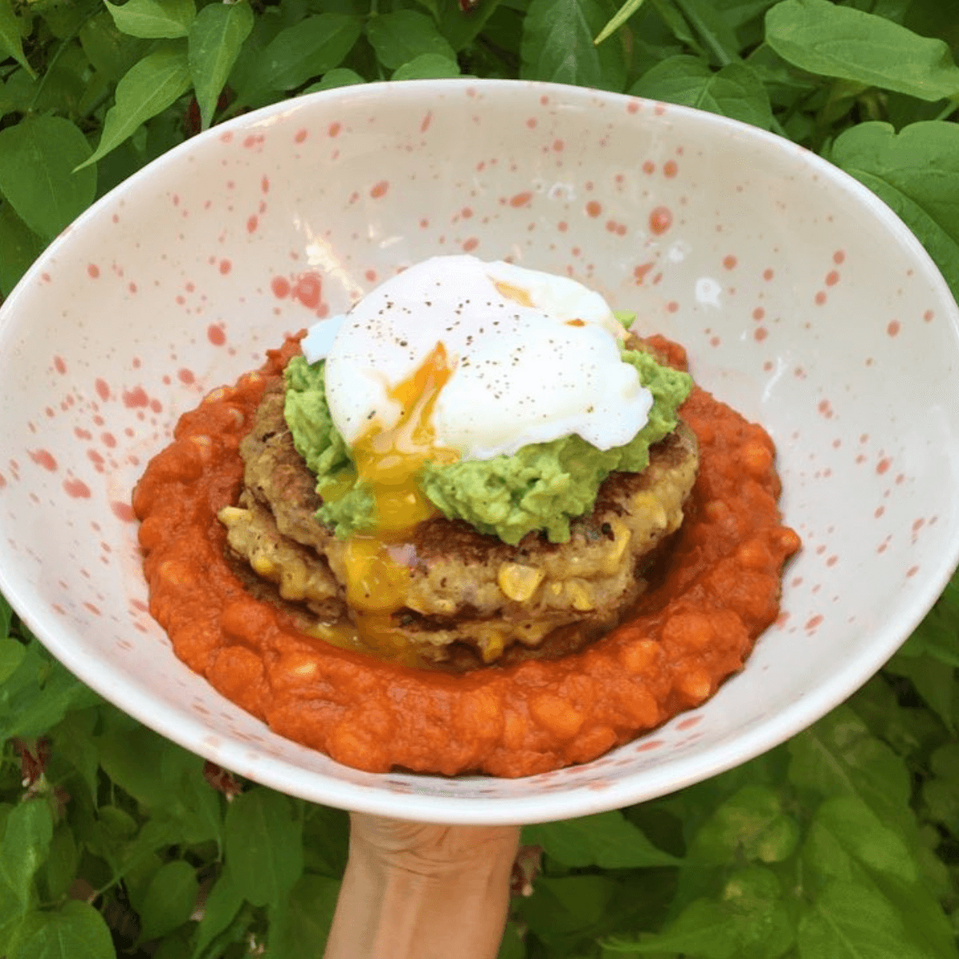 Corn Fritters and Homemade Baked Beans
The baked bean is the great unmovable object in the world of familiar and comforting convenience food. The contrast between the bland bean and its sweet sauce; the perfect ratio of bean to sauce; the speed at which your meal will be on the table; the fact that they taste just as good forked straight from the can as they will if you make the decision to dirty a dinner plate. There is no better toast topping.
But beanz means Heinz, they say – is that true?We eat Heinz beans out of habit and sentimentality, rather than because they taste incredible. We eat them when we're lacking inspiration, are a bit under the weather, or as part of a classic English fry up when we've had a few too many drinks the night before. Whilst they were considered deeply exotic when they were first unloaded from a transatlantic ship, and stocked on Fortnum and Mason's shelves in 1866, there is nothing exciting nor exotic about the 1980s school dinners feel to canned baked beans. And all your life you've been lied to. Turns out they're not even baked beans, they're stewed beans. They don't do what they say on the tin. So we're here to spill the beans.As well as the highly annoying fact that a can contains too much for one person but not quite enough for two, it contains over 25g of sugar which is the equivalent of about eight sugar cubes.
These sweet and tomatoey beans that we've whipped up, however, are tastier and infinitely better for you. They retain that same brick red look and the taste of reassuring comfort, whilst containing no added sugars or nasties. And like Heinz baked beans they can go from pan to plate in less than 30 minutes. So next time don't turn to the tin, because beans no longer means Heinz in this household.
Ingredients (serves 4):
For the Beans:
1 can of haricot beans
2 tbsp olive oil
2 garlic cloves
1 carrot, peeled & finely chopped
1 stick of celery, finely chopped
400g tinned chopped tomatoes
2½ tbsp Dr Will's Tomato Ketchup
1½ tsp cornflour
For the Fritters:
3 large corn cobs
1 small red onion
2 eggs
Small handful of fresh coriander leaves
1 tsp saltBlack pepper
120g plain flour
1 tsp baking powder
Knob of butter
1 large avocado
Juice of half a lemon
Salt and pepper to taste
4 eggs
Method:
Crush the garlic cloves using the flat of a knife and the heel of your hand. Heat the oil in a medium pan over a moderate heat and add the garlic. Fry briefly, until fragrant, then add the carrot and celery. Turn the heat down and cook until well softened (about 20-25 minutes).
Add the chopped tomatoes and Tomato Ketchup, and stir together. Season well and simmer for around 10 minutes, then puree until smooth. We used our NutriBullet but this step can be done with a hand blender or food processor. Transfer mixture back to pan.
Mix the cornflour to a paste with a dash of water, the whisk into the sauce, followed by 200ml water. Season to taste (you can add more ketchup at this point – we won't judge), then add the drained beans and mix. At this point leave the beans off the heat – if you heat the beans and the sauce too early it leaves the beans soft and sludgy. If this happens, what you do with them is up to you, but if you continue to use them for this recipe, it will not be with our blessing.
Cut the corn kernels from the cob using a large, sharp knife. Warning: corn may fly in all directions but, trust us, using fresh, raw corn makes all the difference – tinned corn is too soft, and the desired crispiness and crunch will be lost. Add two cobs worth of corn into a food processor and add the sliced onion, eggs, coriander and salt and pepper. Whizz until combined but not completely smooth – we still want some chunks of corn dotted in the mixture.
Stir through the remaining corn kernels, the flour and baking powder until just combined. Don't overmix the batter as this will result in a more dumpy fritter.
Heat the butter in a large skillet/frying pan over a medium heat. Add a small dash of oil to the butter to stop it from burning. When the butter is sizzling, drop two heaped tablespoons of the mixture per fritter into the pan and leave for a couple of minutes to brown lightly. Flip them over with a palette knife and cook the other side. Remove the golden fritters from the pan and drain excess butter on kitchen paper.
Whilst you're flipping and frying your fritters, return your baked beans to a medium-low heat and simmer for a few minutes until warmed through. Boil a large pan of water and add a glug of white wine vinegar, then lower to a simmer. Crack the eggs, one by one, into a small bowl and gently tip into the simmering water. Leave for around three to four minutes, until the egg whites are set and opaque, and the yolk is golden and runny.
Peel and de-stone the avocado, smash with a fork leaving some creamy chunks and cover with the juice of half a lemon. Season well.
Add a generous scoop of the Dr Will's-spiked baked beans to a deep bowl. Stack the corn fritters on top of your beans – two or three depending on how hungry you are (let's be honest, it's going to be three) – then finish with a helping of the smashed avocado and your perfectly poached egg. 
Bean there, done that when it comes to this canned comfort food? We've added a few other tips and twists to take your baked beans from same-old store cupboard staple to snazzy brunch show-stopper. 
 For added smokiness, try adding Dr Will's BBQ Sauce to the recipe instead of Tomato Ketchup. When cooked stir in crispy bacon pieces, sausage chunks or pan-fried chorizo. 
Place your cooked beans in an ovenproof pan/breakfast skillet, make holes in the mixture with the back of a wooden spoon and crack an egg into each. Top with crumbled feta and bake for 8-10 minutes until the eggs are cooked but the yolks are still runny. Serve with wedges of sourdough toast.
Swap the classic haricot beans for larger cannellini, pinto, black or broad beans. Or a mix of a few.
Leave a comment