Making great tasting sauces involves using the best quality all natural ingredients we can find. We never use anything artificial or that you can't pronounce so we need to make sure our packaging keeps our products fresh for as long as possible.
We also try to make sure our materials are as sustainable as possible and have the smallest impact on the environment. We carefully consider which materials we use, how we use them, and what will happen to them once they're used.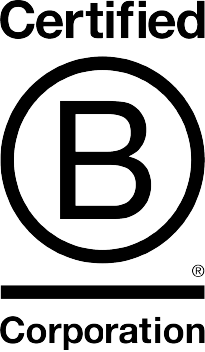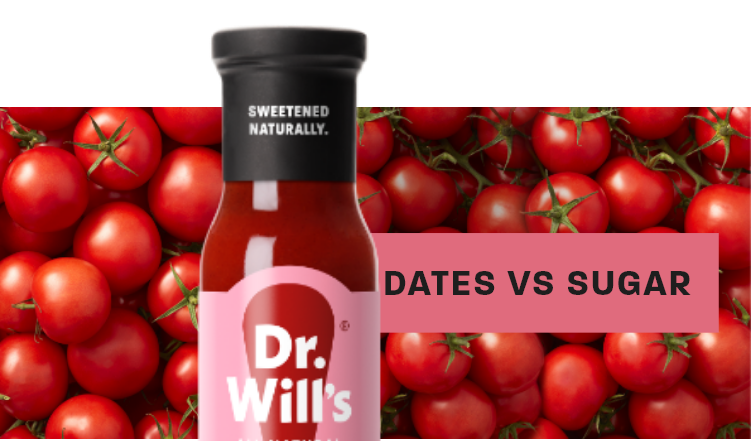 NOT ALL SUGARS
ARE CREATED EQUAL.
HEINZ KETCHUP HAS 19 SUGAR CUBES INSIDE...
It's shocking, right?! We sweeten ours with just three and a half dates.
As a source of fructose, a natural type of sugar found in fruit, dates contain some essential vitamins (vitamin B) and minerals (potassium, magnesium, copper, manganese, iron) - plus a significant amount of fibre.
The fibre found in dates can be beneficial for blood sugar control, as it slows down digestion, helping to prevent blood sugar levels from spiking after eating. For this reason, dates have a low glycemic index (GI), which measures how quickly your blood sugar rises after eating a certain food.
PRETTY IMPRESSIVE, RIGHT?
But not only are these small but nutrient-packed delights full of fibre, they are also high in antioxidants, which may help prevent the development of certain chronic illnesses, such as heart disease, cancer, Alzheimer's, and diabetes.
And that's why we use dates here at Dr.Will's - oh, not to mention they're also incredibly tasty and provide that delicious sweetness you look for in a ketchup!
WE MAKE THAT - DATES 1, REFINED SUGAR 0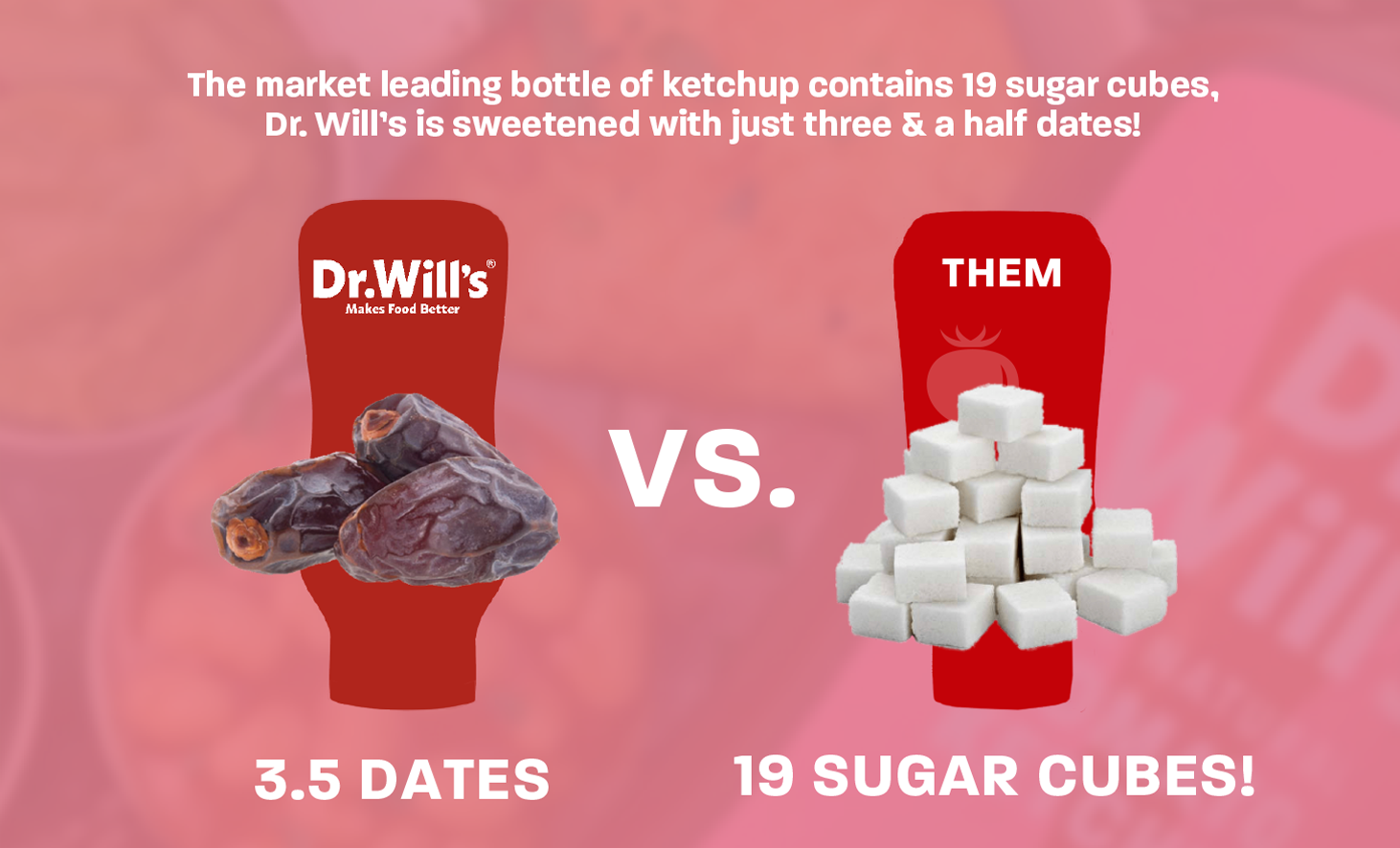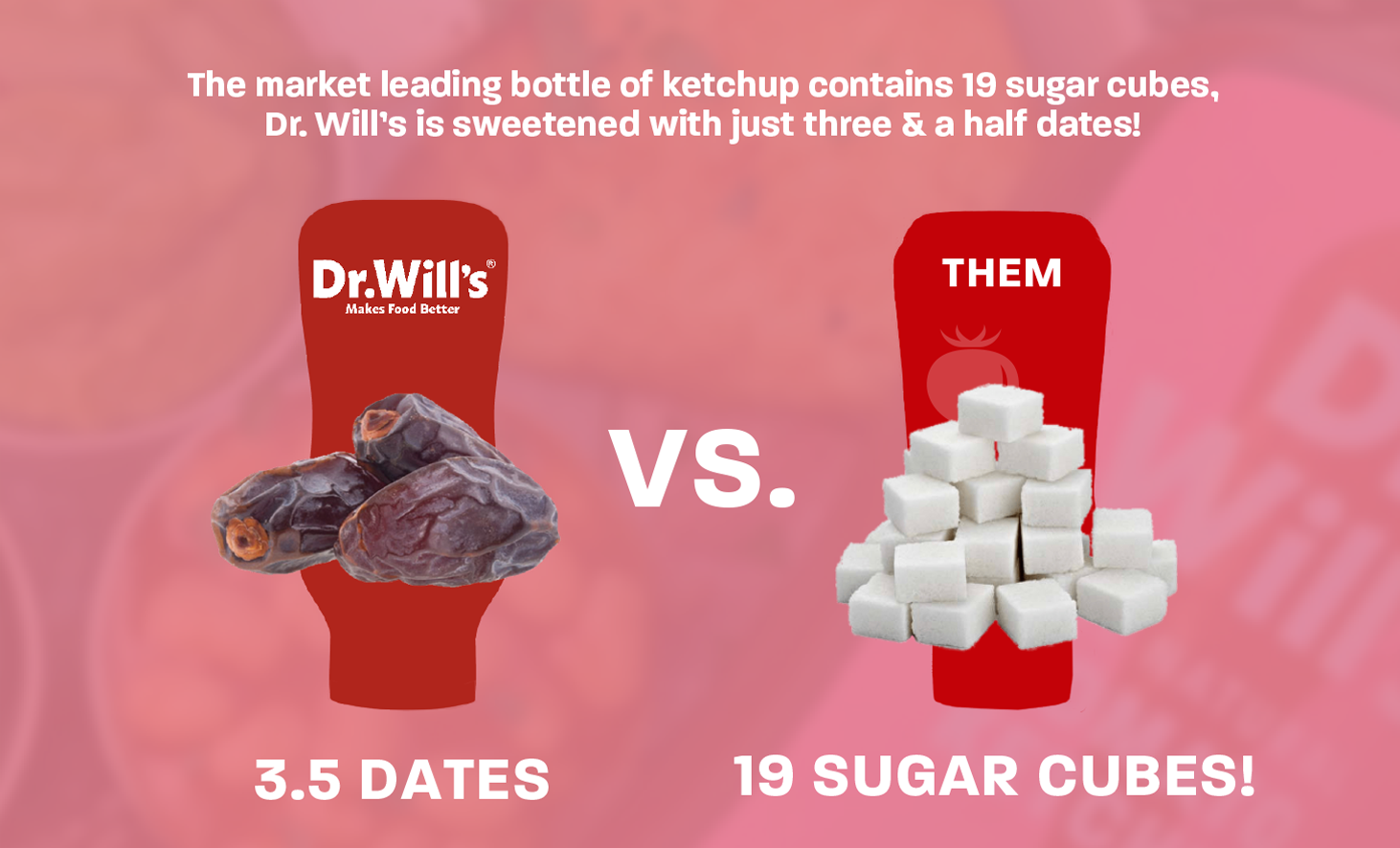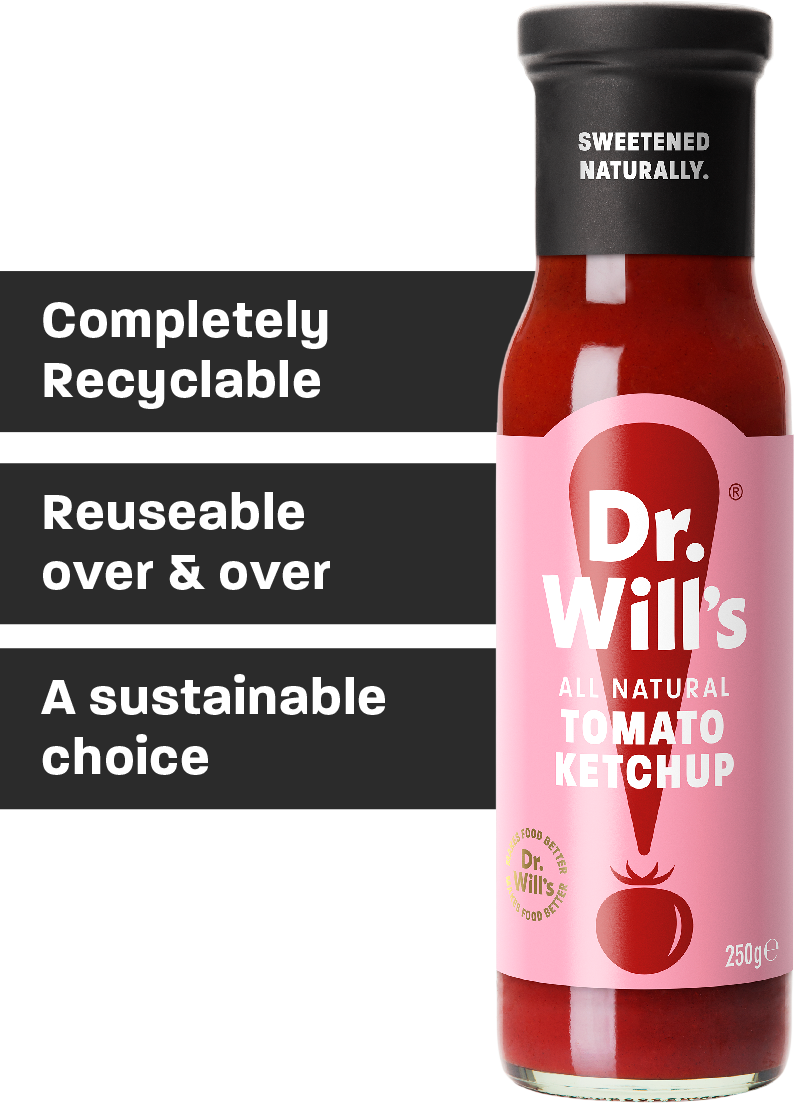 GLASS
Glass is 100% infinitely recyclable with no loss in strength or quality. We operate with closed loop recycling, which in short means a recycled glass container becomes a new glass container, without waste.
Currently over 50% of the UK glass container waste stream is recycled. Even if it does reach landfill its inert nature means that it will not give off harmful greenhouse gases like methane – nor will it have any detrimental effect on marine life if it is discarded on our coasts or at sea.
Our glass supplier processes almost 5,000 tonnes of glass annually which is recovered from kerbside collections, bottle banks and the hospitality trade. This is then melted in their furnaces and made into new bottles and jars - so we can create more ketchup without any waste.
PLASTIC
We now offer larger formats, which is a decision we've made to allow families to use our range more easily, as let's face it, families use lots of sauce at the dinner table. That 250g glass bottle can be gone in a few meals, not to mention that annoying last bit of ketchup you just can't get out of the bottle. A 500g 100% recyclable squeezy bottle is the format we use for this.
These bottles are made from 100% recyclable and environmentally friendly PP. This material has a reduced carbon footprint in manufacture than glass and in addition is extremely light (up to 10x lighter than glass for the same weight), reducing the carbon footprint of transportation of both the empty and filled bottles.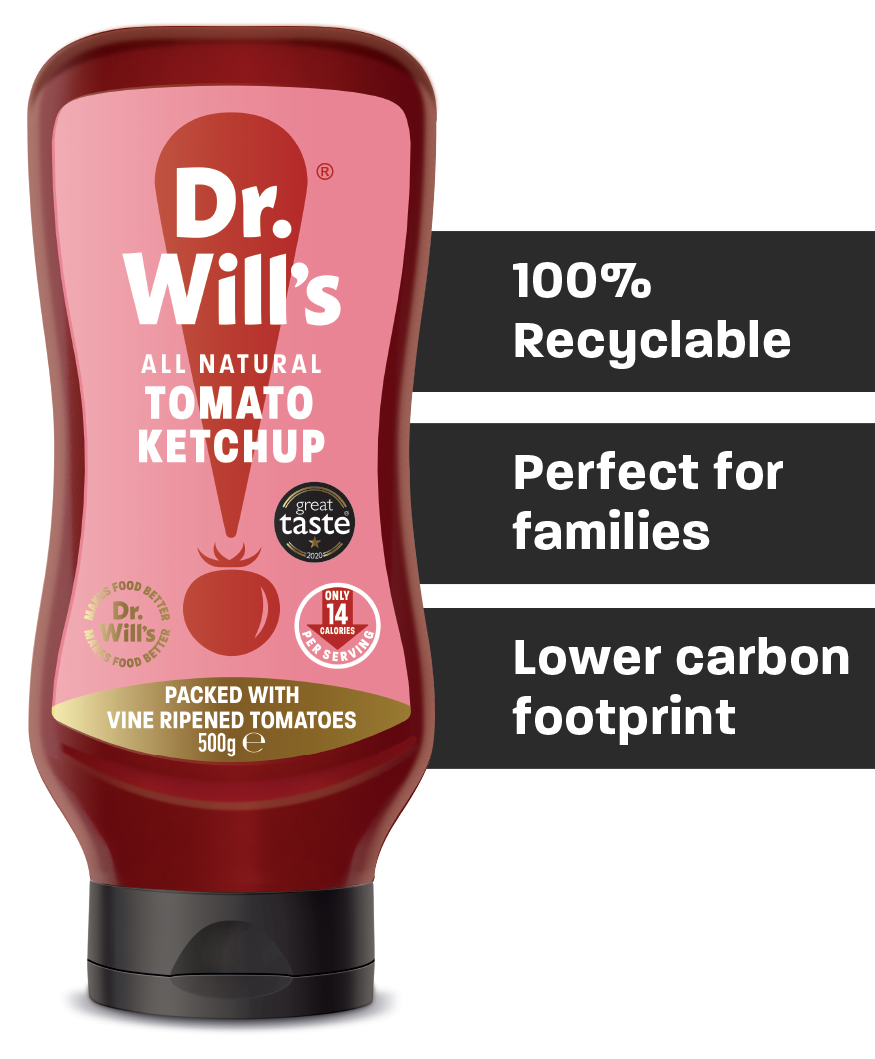 The reduction in wall thickness in a plastic bottle also leads to more efficient packing formats, meaning more bottles in each box/pallet/truck for us and more room for saucy goodness for you.This technology is developing quickly, much like your appetite for our sauces, so remember, enjoy and please recycle when you use our great tasting natural condiments.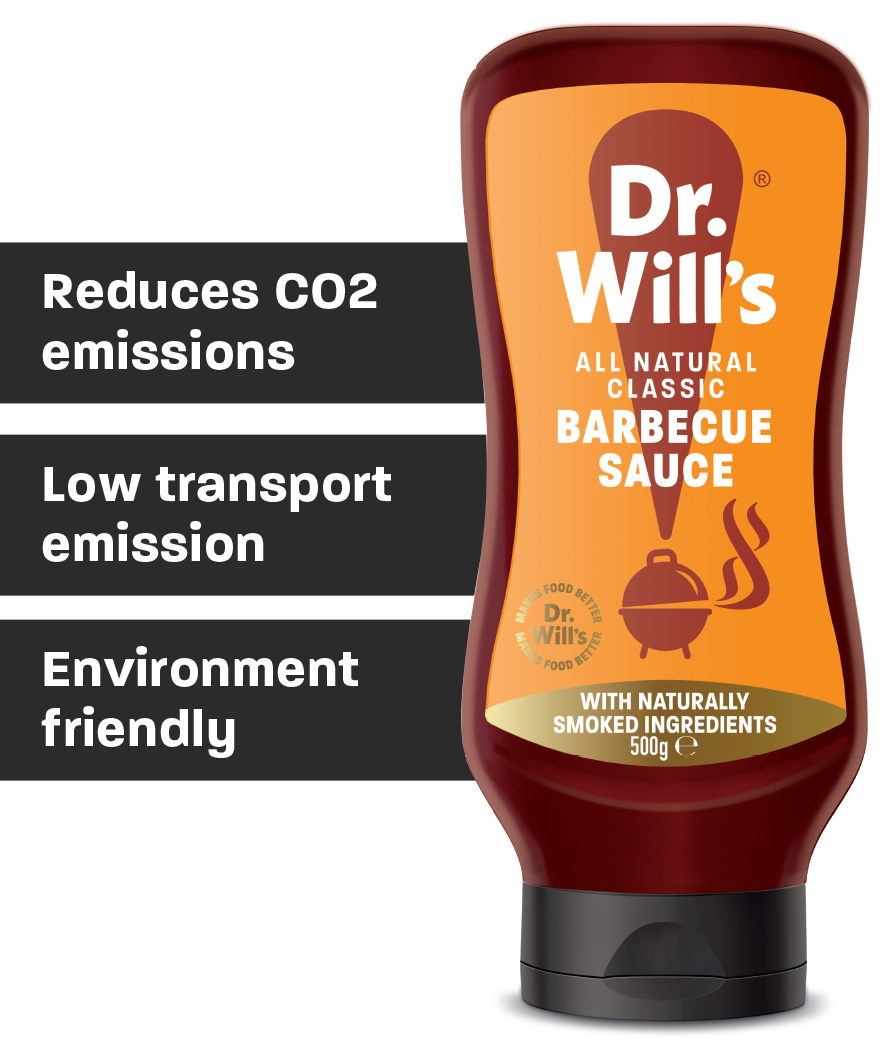 OUR PACKAGING:
WEB ORDERS
You may notice that when you receive orders from us, there is no bubble wrap. We use biodegradable packaging, as well as fully recycled shredded cardboard to protect their sauces on their way to you. All packaging materials are fully recyclable.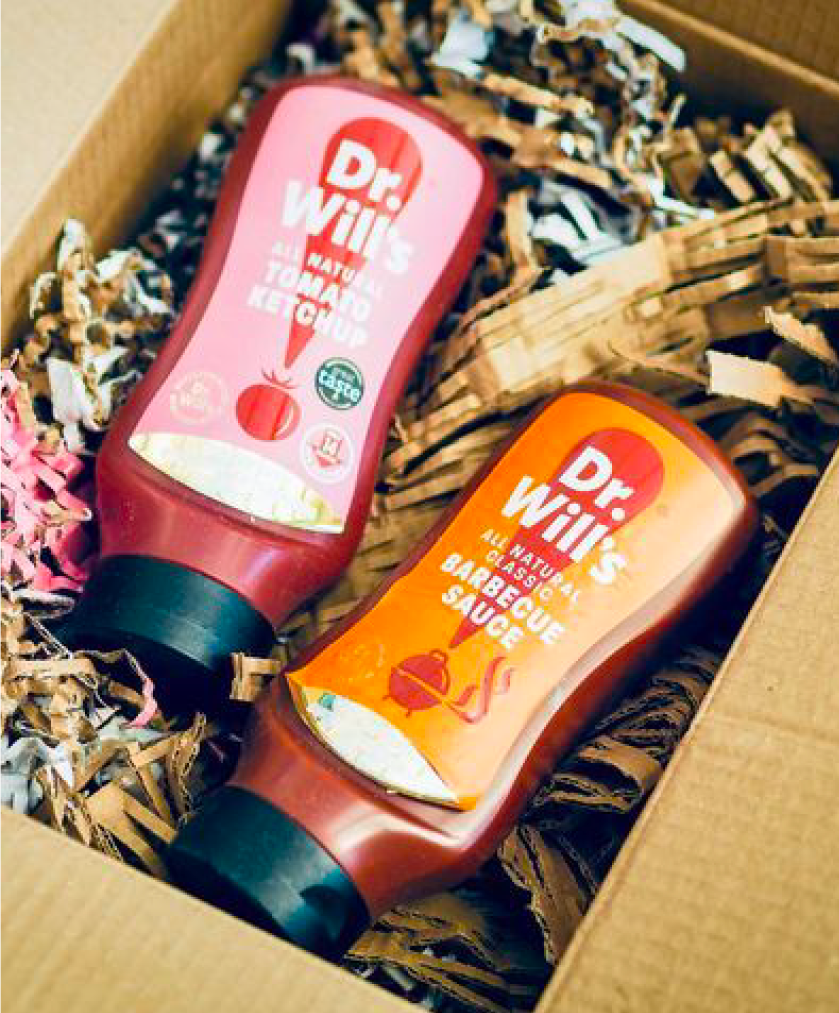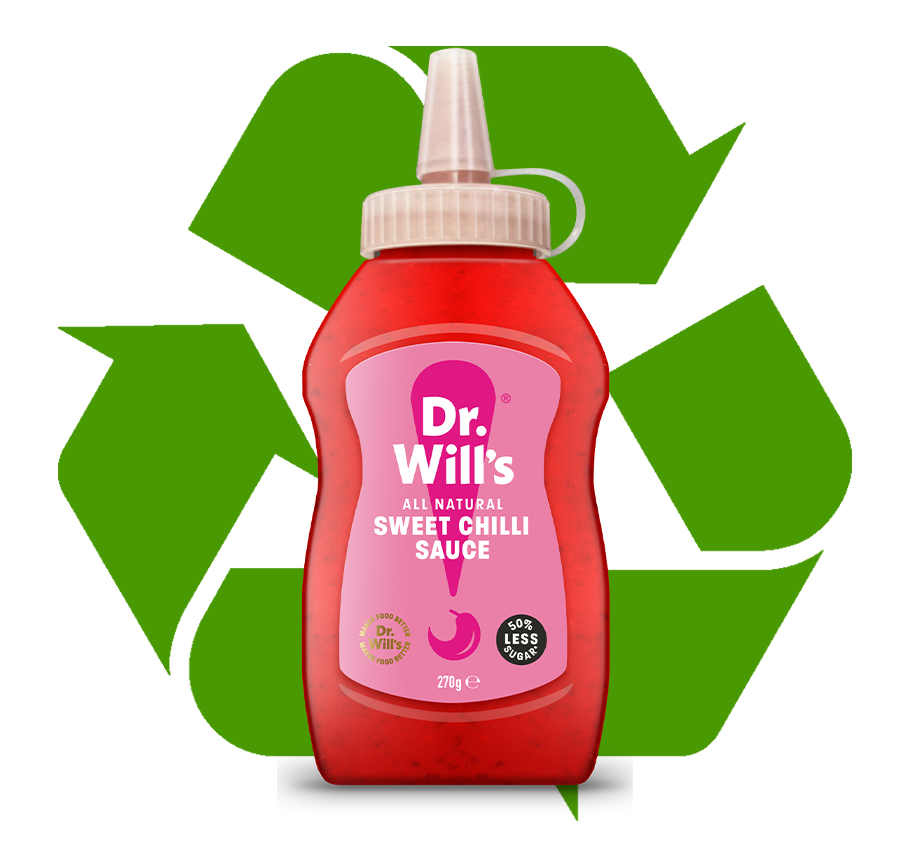 HOW TO
RECYCLE
The main problem associated with plastic packaging is that it often doesn't end up getting recycled, despite being recyclable. It is estimated that an average of 35.8 million plastic bottles are used everyday in the UK, but only 19.8 million are recycled each day. This means there are on average 16 million plastic bottles a day not making their way into the recycling bin.
PLEASE HELP US WITH BY DOING YOUR BIT:

1
EMPTY YOUR
PLASTIC BOTTLE.

2
GIVE IT A
QUICK RINSE.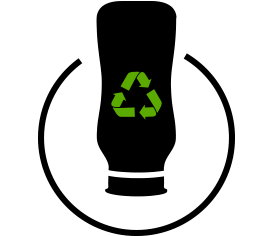 3
RECYCLE IT.
Look out for the recycling logo on the back of pack.