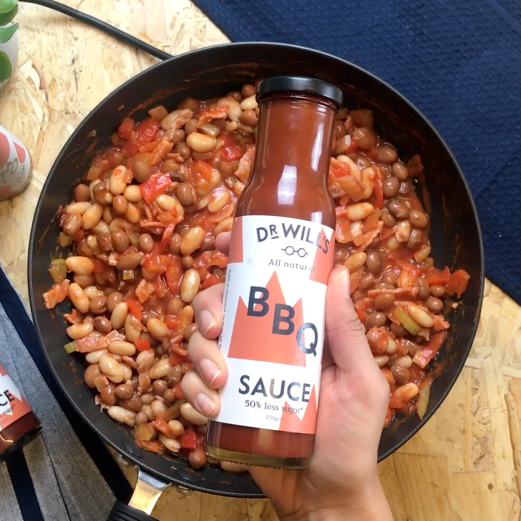 Our next recipe in our Quick 'n' Easy series is a cheap and cheerful BBQ Bacon Beans recipe. The perfect warming dish for cold December nights, they're a delight dolloped liberally over piping hot jacket potatoes, but work just as well spooned right out of the bowl for a quick fix of comfort. 
Full ingredients and recipe listed below:
Ingredients:
2 celery sticks, diced
1 small onion, diced
1 small red pepper, diced
8 rashers streaky bacon, finely diced
1 garlic clove, diced
1 tsp chilli powder
500g carton passata
400g can borlotti beans
400g can cannellini beans
4 tbsp Dr Will's BBQ Sauce
Method:
On a medium/high heat, fry the bacon, onions, celery, peppers, garlic and chilli powder until the vegetables have softened. 
Add the passata, borlotti beans and cannellini beans, and stir well.
Dollop in 4 tbsp of Dr Will's BBQ Sauce and cook on a low heat for 10 minutes, season to taste and serve. 
This tangy, tasty and super quick alternative to baked beans is a fantastic supper suggestion for cold, winter evenings, with our smokey BBQ Sauce adding a real depth of flavour.
Leave a comment