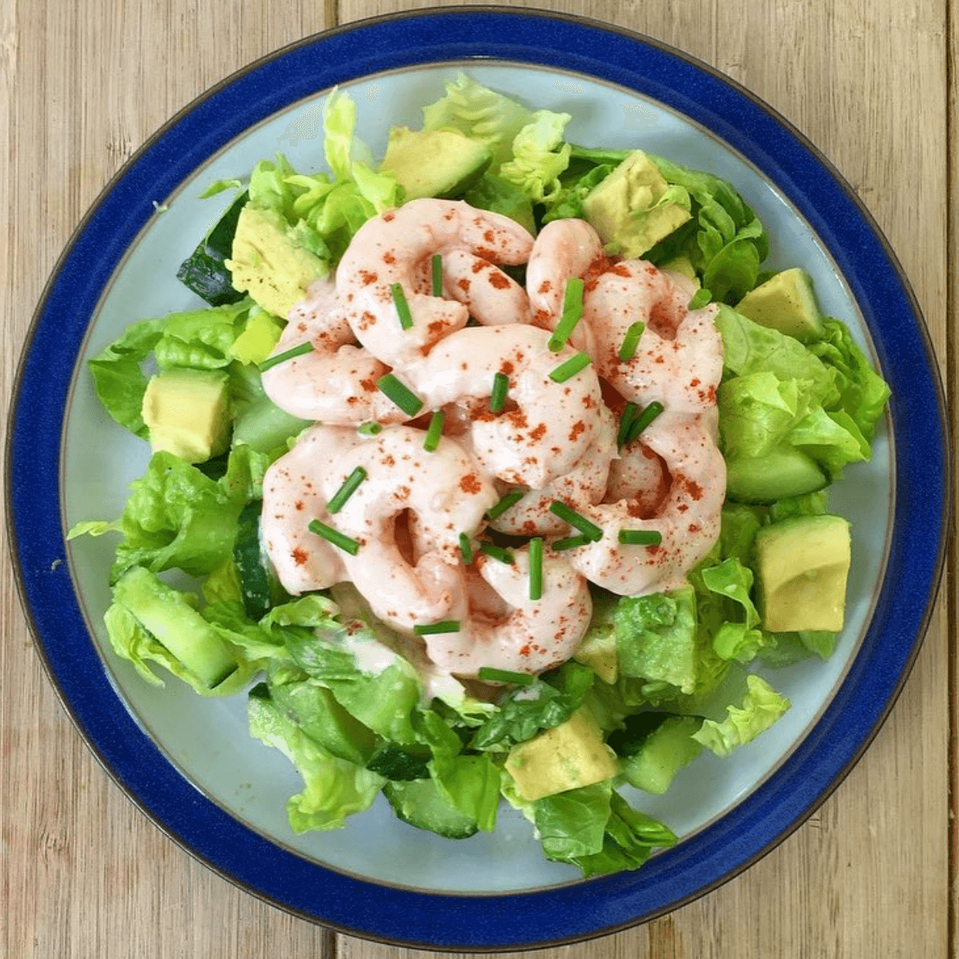 From the 1960s to the 1980s there was only one starter you could serve to get your dinner party off with a swing: the prawn cocktail. Served in a wine glass, this gloopy mix of defrosted prawns and sweet Marie Rose sauce balanced on a nest of iceberg lettuce was the sophisticated way to begin a night among friends. Gammon and pineapple and Black Forest gateau inevitably followed. The prawn cocktail has been around now for a good 30 years, and has spent most of that time see-sawing from the height of foodie fashion to the laughably passé. 
It has become such a figure of culinary fun in recent years that it is hard to take it seriously as a dish. A prawn Marie Rose sarnie may still be one of the safer bets from the petrol station sandwich selection, but the idea of serving up the same combination to dinner guests is still faintly embarrassing. Like cheese fondu and vol-au-vents, this starter is going to need a little while longer until it is seen as anything other than a fond memory. Or a nightmare from the decade taste forgot.In those days this dish used to be something simple but luscious – prawns and avocados were not as affordable or easy to get hold of as they are now. Today it's a different story. Now you can't go near Instagram without seeing someone's mushy, green brunch and coincidentally, today is National Avocado Day. 
Ingredients (serves 4):
For the Mayonnaise:
2 egg yolks
1 tbsp Dijon mustard
500ml sunflower oil
1-2 tbsp white wine vinegar
½ lemon
Salt
For the Sauce:
4 tbsp mayonnaise
4 tbsp natural yoghurt
1 heaped tbsp Dr Will's Tomato Ketchup
2 tsp Worcestershire sauce
Good shake of Tabasco
2 tsp lemon juice
For the Prawn Cocktail:
400g cooked shelled prawns
3 little gems
¼ cucumber
1 avocado
2 tbsp lemon juice
Bunch of chives
Pinch of cayenne pepper
Method:
Add the egg yolks to a tall mixing bowl and beat well with a whisk for a couple of minutes. Add the mustard and whisk together.
Gradually add about half of the oil in a very thin stream, whisking continuously for around three to five minutes, or until thickened. Don't be tempted to rush this , or your mayo will split. As the mixture thickens, you can start to add more quickly.
Whisk in one tablespoon of vinegar – this will loosen the mixture slightly and give it a paler colour. Continue to add the remaining oil, whisking continuously until thick and glossy. Season with a pinch of salt, a squeeze of lemon juice and a little more vinegar, if needed.
Put the four tablespoons of mayonnaise in a bowl and whisk to loosen, then add the natural yoghurt, Dr Will's Tomato Ketchup, Worcestershire sauce, Tabasco and lemon juice and mix thoroughly. Add the prawns to the sauce and stir to coat.
Cut the cucumber in half lengthways, scoop out the seeds, and cut the flesh into small dice. Peel the avocado, dice finely and toss this and the cucumber in lemon juice and season well. Shred the lettuce fairly finely and toss together.
Divide the salad mix into four bowls, plates or ornate glasses if you're feeling the 1970s vibe, with a dip in the middle for the prawns to sit in. Divide the prawns between the dishes and top with finely chopped chives and cayenne pepper. 
This dish is the perfect way to start a summer's dinner party. If it could leave its 70s baggage behind, the prawn cocktail could get on with being what it is – a no hassle, winning appetiser.
Leave a comment