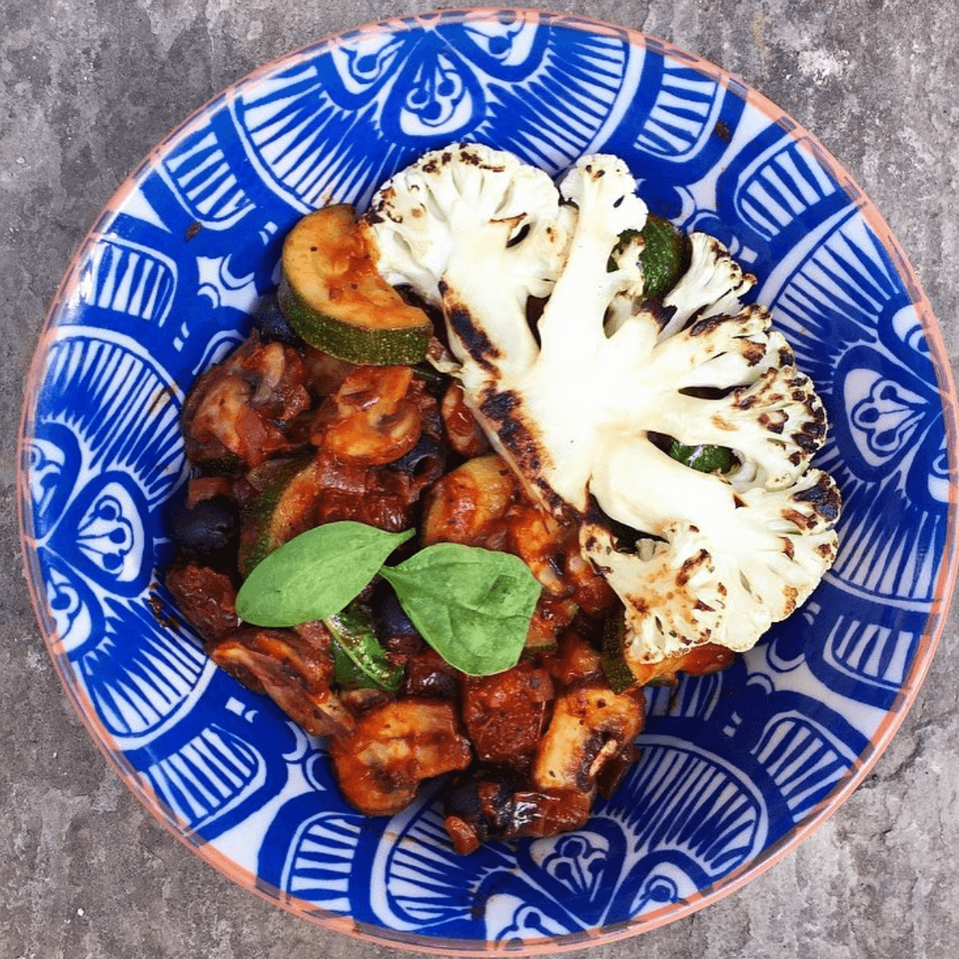 Charred Cauliflower Steaks and Tomato Ragu
Vegetables go in and out of fashion, just like super skinny jeans and padded shoulders. Take kale, for instance. Earlier this decade, the peasanty cabbage was the trendiest thing ever to hit a menu, before succumbing to the first law of fashion (once it becomes cool, it's actually very uncool) and being replaced by another candidate: the cauliflower. A dowdy, dreary thing once rarely seen without a cheese sauce comfort blanket, cauliflower is now everywhere – it's giving even the ubiquitous kale a run for its money. Just as kale is now commonly seen in a crisp form, cauliflower is now a fabulous substitute for both carbohydrate and protein with cauliflower rice, cauliflower pizza bases and the focus of today's newsletter, cauliflower 'steaks'. 
We've paired it with an Italian ragu loaded with sundried tomatoes, black olives and health-boosting garlic, but just about any other saucy suggestion would complement equally as well. Once you've got this reliable method for a cauliflower main under your belt, you can serve it with anything you please.So if you've always thought that cauliflower can't be exciting, here's a veggie recipe that might make you want to reconsider – one that deserves a place alongside other vegetarian stalwarts like mushroom risotto and stuffed peppers. Cauliflower may be having its 15 minutes in the sun, but it's never been in the shade in our kitchen. So maybe it's time for us to stand up for other minority veg. Turnip, celeriac, swede: we've got your backs.
Ingredients (serves 2):
1½ tbsp olive oil
1 red onion
1 garlic clove
1 medium courgette
150g chestnut mushrooms
150g passata
3 tbsp Dr Will's Tomato Ketchup
80g sundried tomatoes
40g pitted black olives
1 tsp dried basil
Salt and pepper
60g spinach
1 cauliflower
Method:
Heat one tablespoon of the olive oil in a medium-sized pan over a medium heat. Finely dice the red onion and garlic and, once the pan is hot, fry for three minutes.
Top and tail the courgette, cut in half lengthways and slice into thin half moons. Finely slice the mushrooms and roughly chop the sundried tomatoes. Add the courgette and mushroom pieces to the pan and cook for a further five minutes.
Add the passata, Dr Will's Tomato Ketchup, sundried tomatoes, olives and dried basil. Season with sea salt and black pepper and simmer for 10 minutes, until the tomato sauce is thick and glossy.
Meanwhile, pull any leaves off the cauliflower and trim the stem. Slice two 2-3cm thick 'steaks' from the centre of the cauliflower, from the base to the top. This part can be quite tricky so watch out for any flying florets. Save the remaining sides for another cauliflower dish of your choosing – we recommend roasting with a glug of olive oil and half a teaspoon of turmeric.
Drizzle the remaining oil over the cauliflower steaks, coating evenly. Preheat a griddle pan on a medium-high heat, and cook the steaks for 10 minutes, turning occasionally.
A couple of minutes before the cauliflower steaks are done, add the spinach to the tomato mixture, allowing it to wilt.
To serve, spoon the tomato ragu into two warm bowls and top with your beautifully-charred cauliflower steaks. 
Served up golden and charred, cauliflower steaks make an impressive meat-free centre-piece. They look and taste brilliant – burnished and charred, the buttery clean white inside offers a sharp contrast to the crisp and browned exterior. The cauliflower's ability to take on other flavours makes it incredibly versatile too. Because of its bland sweetness you could make this dish the star attraction of almost any feast and it would fit right in.
Leave a comment