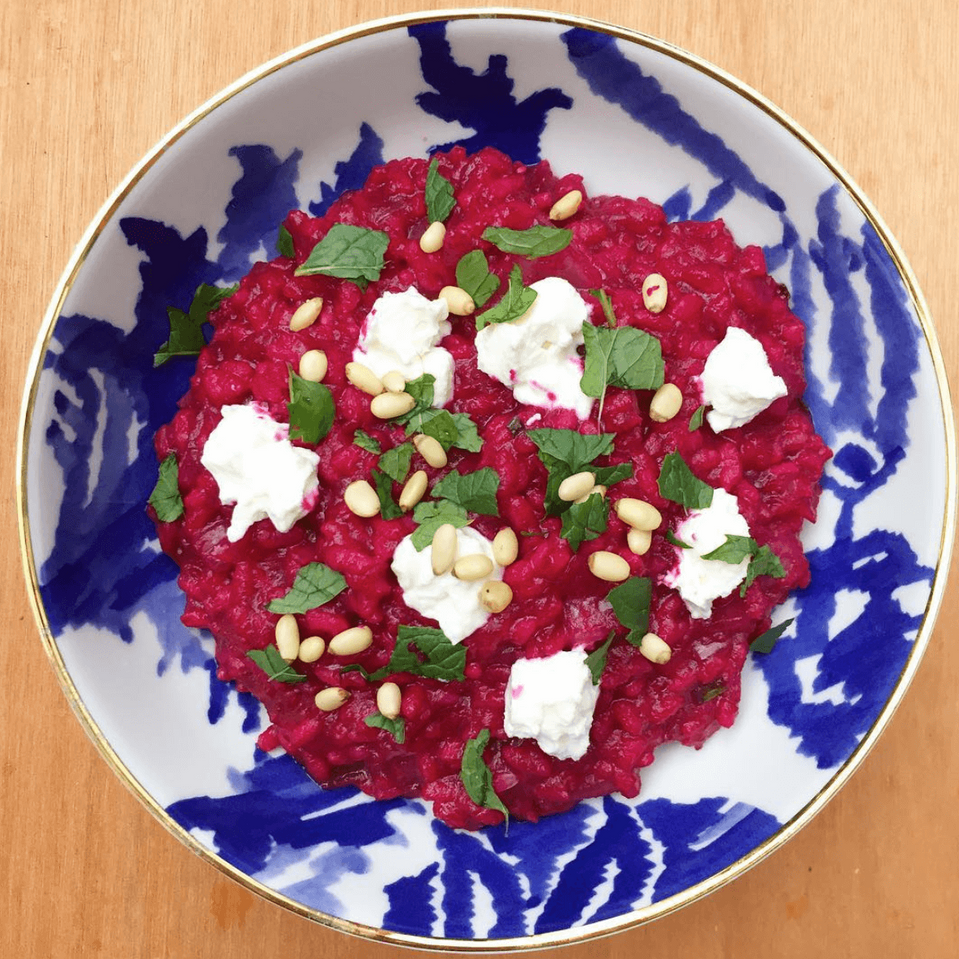 For many people, beetroot inspires abject horror: ominous orbs floating in acrid vinegar. But fresh, cooked beetroot is a world away from the dodgy pickled sort, and brighter, firmer and more full of earthy flavour. Grappling with fresh beets can leave your kitchen looking a little bit like an episode of CSI. Luckily, the ready-cooked, vacuum-packed numbers you can find in supermarkets require little cooking effort or clearing-up time, and provide perfectly tender roots. The benefits of beetroot, pre-packaged or not, are well-sung. Eating the purple root on a regular basis has been shown to help lower blood pressure, boost stamina and fight inflammation. They're low in fat, full of vitamins and minerals and packed with powerful antioxidants.This week we've let these sweet and earthy vegetables shine in a crimson and creamy risotto. In spite of the drama of its deep colour, this is a simple vegetarian dish that's cheap and easy to make, and guaranteed to brighten up any dinner table.
Ingredients (serves 4):
1 tbsp olive oil
1 red onion
400g cooked beetroot
3 tbsp Dr Will's Beetroot Ketchup
2 garlic cloves
1 tsp fresh rosemary
300g risotto rice
1 litre vegetable stock
100g goats cheese
Mint
Pine nuts
Salt and pepper, to taste
Method:
Heat the oil in a large pan over a medium-low heat. Add the diced onion and cook, stirring occasionally, until soft and translucent. This should take about 10 minutes.
As the onion cooks, put the cooked beetroot and Dr Will's Beetroot Ketchup in a blender and blitz until smooth, and set aside.
Finely chop the garlic and rosemary and add to the softened onion. Leave to cook for one minute then stir in the risotto rice and cook for one to two minutes more, until the grains are well-coated and glistening.
Add a ladleful of stock and stir until it has been absorbed by the rice. Continue to gradually add the rest of the stock, stirring and allowing the rice to absorb the liquid before adding more. This generally takes around 20 minutes.
When all the stock has been added, stir in the beetroot mix, and season with salt and pepper.
Warm through for a couple of minutes, then spoon the risotto into shallow dishes and crumble over the goats cheese. Scatter with loosely chopped or torn mint leaves and pine nuts and serve.
You can serve this as you would a normal risotto, with a pile of grated pecorino or parmesan on the top, but we went for a creamy goats cheese – the perfect pairing for the sweet magenta beetroot. Since this isn't strictly an Italian dish, we think you're well within your right to go completely off piste and use something unexpected – salty feta would work equally as well, as would a hearty crumbling of Lancashire. 
Leave a comment