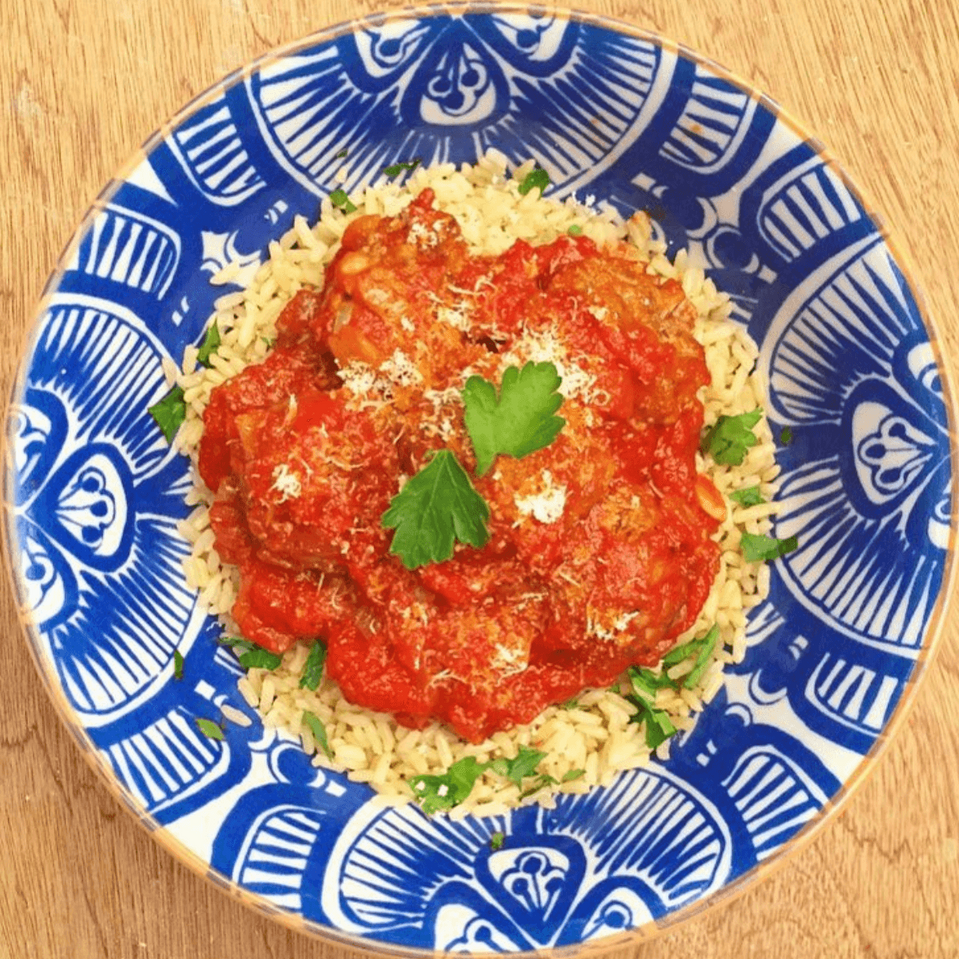 Italian Meatballs with Rice
Meatballs, like so many mince-based dishes, tend to occupy a special place in our hearts. Perhaps it's their simplicity, their diminutive size, or maybe it's the image of Disney's Lady and the Tramp enjoying a bowl by the bins, but we can't think of many other dishes we'd rather settle down with after a long day at work.This week's recipe is devoted to the Italian-style meatball (outrageously good Swedish IKEA meatballs, we'll save you for another week), often served with spaghetti and that Italian-Amercian classic 'red sauce'. Rather than pasta we dished up our juicy and tender meatballs with a hearty helping of wholegrain rice. Unlike staple white rice, the wholegrain version still has its outer hull and bran, meaning more nutrients and all the fibre are retained, and it has a distinctive nutty taste. Feel free to expand your rice repertoire with the more adventurous red, black and wild sort – whichever you choose, it'll serve as a delicious vehicle for these melt-in-your-mouth meatballs.
Ingredients (serves 2):
For the Meatballs:
1 large onion, finely chopped
3 garlic cloves, finely chopped
50g parmesan
1 tbsp thyme leaves
½ tsp paprika
1 egg
500g lean beef mince
2 tbsp olive oil
Salt and pepper
For the Sauce:
2 tbsp olive oil
1 onion, finely chopped
2 garlic cloves, finely chopped
1 tin of peeled plum tomatoes (400g)
½ tsp salt
1 bay leaf
Water
3 tbsp Dr Will's Tomato Ketchup
½ tsp dried basil
Ground black pepper
120g wholegrain rice
2 tbsp chopped flat leaf parsley
Parmesan
Method:
To make the meatballs, put all the ingredients except the oil in a large bowl, season well with salt and pepper, and mix with your hands until combined. Shape into seven even-sized balls and chill in the fridge for 30 minutes.*
Heat the oil on a high heat in a wide, heavy-based pan. Sauté the meatballs for eight minutes or until golden brown, turning to ensure an even pan-fry. The meatballs don't need to be cooked through at this stage, just enough to seal and brown all over. Remove with a slotted spoon and place on kitchen paper to absorb any excess oil. Depending on the size of your pan, you may need to do this stage in batches.
To make the sauce, return the pan to the heat and add the oil. Once hot, add the onion and garlic and sauté until soft and translucent – this should take around 10 minutes.
Stir in the tinned tomatoes, salt and bay leaf. Cover, reduce the heat to low and simmer for 20 minutes.
Fill the now-empty can of plum tomatoes with water and add to loosen the sauce mix. Then add the Dr Will's Tomato Ketchup, basil, pepper and the meatballs, cover again and simmer for 10-12 minutes, stirring occasionally, until the meatballs are cooked through.
Meanwhile cook the rice according to the packet instructions, for approximately 25 minutes. Drain well and lightly fork through the grains before adding the chopped parsley.
Split the rice between two bowls and spoon over the piping hot meatballs, with plenty of sauce. Finish with a generous helping of parmesan cheese. Tuck in. 
*Be sure to shape the meat into relatively firm balls – loosely shaped balls will lose their shape and fall apart when pan-fried. It is easier to do this step with damp hands. 
Don't worry veggies and vegans, we haven't forgotten about you. Vegetarian meatballs are very much a thing, and they're just as good as the meaty original. Unlike what you'd expect from the name, they're nothing like the dubious faux-meats you can buy in supermarkets, but crispy, nutritious balls made from the likes of mushrooms, lentils, chickpeas and quinoa. Hit up google for a recipe, get cooking', load up your veggie meatballs with our tomato sauce and you're good to go.
Leave a comment