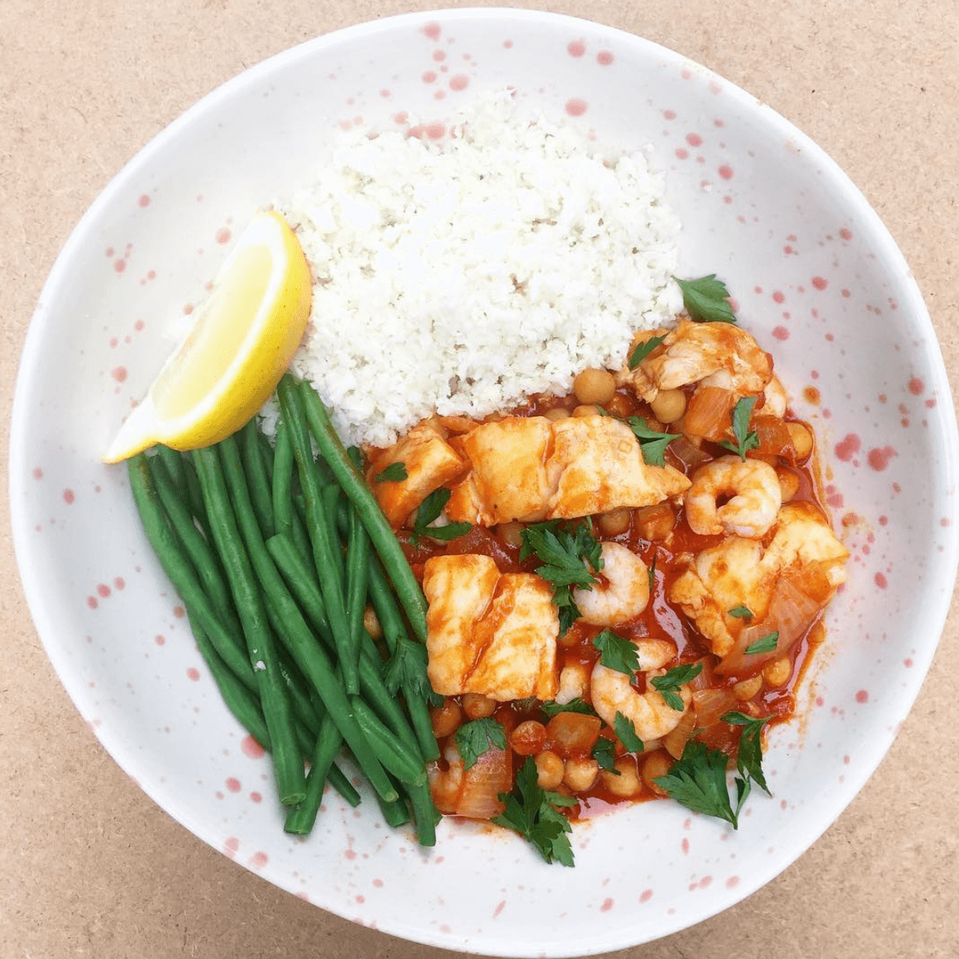 Spanish Fish Stew with Green Beans and Cauliflower Couscous
A proper fish stew takes hours to get on the table – it's definitely not the sort of thing you'd think about rustling up for a speedy, midweek dinner. This version, however, jazzes up a few store-cupboard staples to make a deliciously simple fish dish, packed full of flavour, that takes around 30 minutes from first chop to final ladling. With fresh white fish, king prawns and chickpeas, you can feed your family like a Mediterranean mamma, using light and flavourful cauliflower couscous to mop up the rich, paprika-spiked tomato sauce. We don't know about you, but we've hooked ourselves a new comfort food failsafe.
Ingredients (serves 2):
For the Fish Stew:
1 tbsp olive oil
1 large onion
2 tsp hot smoked paprika
200g passata
3 tbsp Dr Will's Tomato Ketchup
250ml vegetable stock
500g cod fillets
150g king prawns
Can of chickpeas
1 lemon
Salt and pepper
1 large cauliflower
1 tbsp olive oil or butter
Green beans
Handful of flat leaf parsley
Method:
Heat the oil in a large pan over a low-medium heat. Dice the onion, add to the pan and cook for 8-10 minutes until softened, stirring occasionally.
Add the paprika, passata, Dr Will's Tomato Ketchup and vegetable stock, and cook over a high heat for 5 minutes, until thickened.
Cut the cauliflower into large florets and add to a food processor. Pulse the cauliflower until completely broken down into couscous-sized granules. (Alternatively, you can grate the florets on the large holes of a box grater – watch your fingers, though!)
Heat the oil or butter in a pan over a medium heat. Once hot, stir in the couscous and cook for 5-8 minutes, until the cauliflower is tender.
Cut the cod into large chunks and add to the tomato mix, along with the prawns and drained chickpeas*. Stir well to coat in the sauce and cook for a further 5 minutes, until both are just cooked through. Season to taste and finish with the zest and juice of half a lemon.
Meanwhile, cook the green beans in boiling water for 3-4 minutes. We haven't specified portion size – it depends how much that tum's a-rumblin'.
To serve, heap half of the cauliflower couscous into a warm bowl, topped with the fish stew and a helping of beans. Add thick wedges of lemon, cut from the remaining piece of fruit. Finish with a scattering of fresh, chopped parsley. Dive in. 
*If you're using cooked king prawns, add to the pan for the final minute of cooking time otherwise they will become tough and rubbery – that would be shrimply terrible (sorry). 
For this stew we kept things simple with cod and juicy king prawns, but you can choose whichever fish and shellfish you like. The recipe works best with a firm white fish, such as cod or halibut, but you could also use red snapper or even tilapia. Just be sure to stay away from delicate fish like sole, or oily fish such as tuna. The addition of mussels, scallops and squid will also make for a gloriously summery seafood stew.
Leave a comment