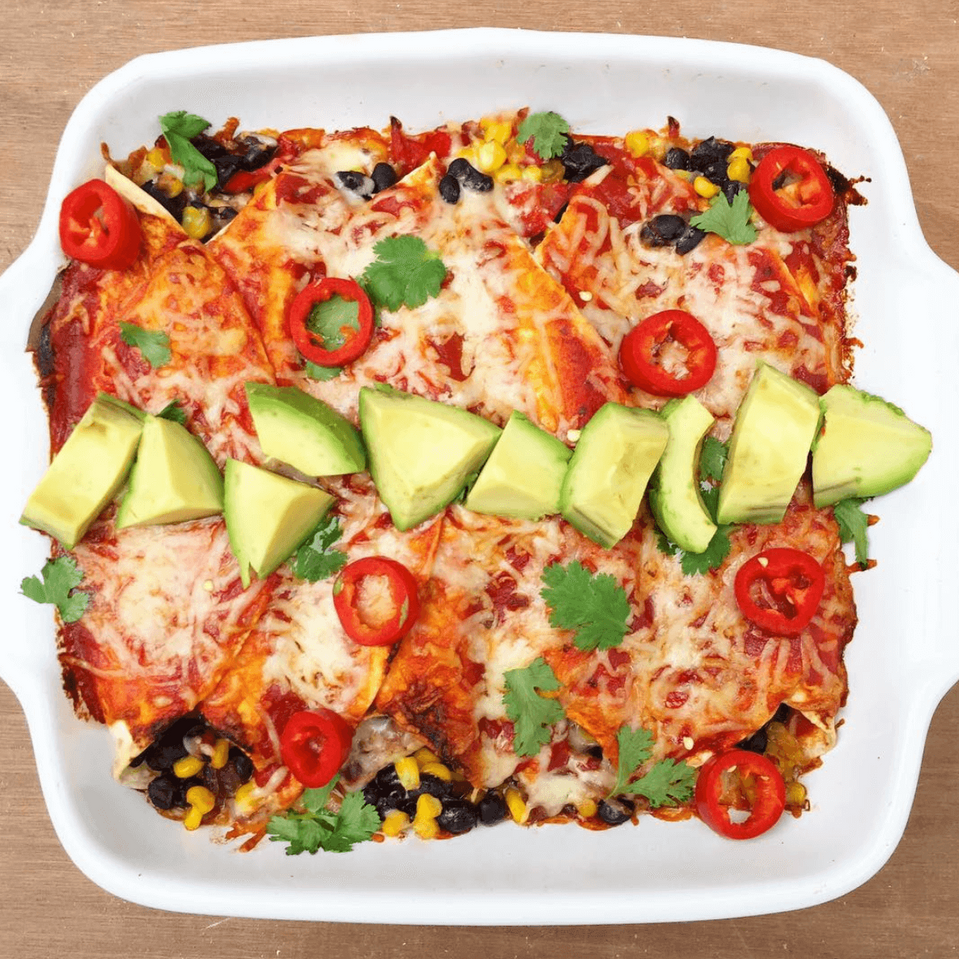 It's little wonder that Mexican food, with its riot of colours, unabashed flavours and swathes of melted cheese, appeals to the modern British palate. Such is the growing interest in the cuisine, you can barely waltz through the ready-meal section of your local supermarket without being confronted by rows of microwaveable nachos and burritos. And popping up across the country are Mexican-inspired fast-food joints such as Mission Burrito and Chipotle. The thing is, Mexican dishes are real crowd pleasers. And when knocked up at home, they're loaded with healthy, fresh ingredients and are quick and easier to make than they are to pronounce. These colourful enchiladas (one of the few Mexican dishes that benefit from a knife and fork) are sure to be a firm family favourite and bring a bit of sunshine to the end of summer. 
Ingredients (serves 2):
For the Sauce:
250g passata
6 tbsp Dr Will's BBQ Sauce
For the Enchiladas:
2 tbsp olive oil
1 red onion
250g boneless skinless chicken breast
3 red chillies
Salt and pepper
½ can black beans
1 small can of sweetcorn
4 large flour tortillas
200g cheddar cheese
Handful of fresh coriander
1 avocado
Method:
Preheat the oven to 180 °C. In a large, heavy-based pan, heat the oil over a medium-high heat. Finely chop the onion and add to the hot pan and sauté until soft and translucent. This should take around 8 minutes.
Dice the chicken into small 1 inch pieces and de-seed and finely chop two of the chillies. Add both the chicken and chillies to the pan and season well. Leave to cook for around 12 minutes, stirring occasionally, or until the chicken is cooked through. Stir in the drained beans and corn until combined, then remove from the heat and set aside.
In a small bowl, whisk together the passata and the Dr Will's BBQ Sauce. Set aside.
To assemble the enchiladas, lay out a tortilla on a flat work surface then spread 2 tablespoons of sauce over the surface of the tortilla. Add a helping of the chicken mixture, then sprinkle with grated cheese. Roll up the tortilla and place in a L25 x W19 cm greased baking dish. If you only have a bigger dish, or are feeding a larger group, simply use a bigger baking dish and, accordingly, double up on ingredients.
Repeat with the remaining tortillas and add to the dish. Spread the left-over enchilada sauce on top of the rolled-up tortillas and cover with an even layer of cheese. If you're trying to be extra healthy this week, simply forgo this extra helping of cheese, or limit it to a sparse sprinkle. Your loss, though.
Bake, uncovered, for 20-25 minutes, until the cheese is melted and the tortillas are crispy around the edges. Remove from the oven and serve immediately, garnished with chopped, fresh coriander, the remaining chilli and chunks of avocado. Enjoy. 
To make this dish veggie-friendly, simply swap the chicken for chunks of cooked sweet potato, butternut squash or sautéed peppers. Different filling, same comforting, spicy goodness. As for coeliacs or wheat-dodgers, as we're sure you're aware, you can find plenty of gluten-free wraps in most supermarkets. Our favourite are the BFree sweet potato wraps – they're delicious, light and super healthy. You MexiCAN'T go wrong.
Leave a comment