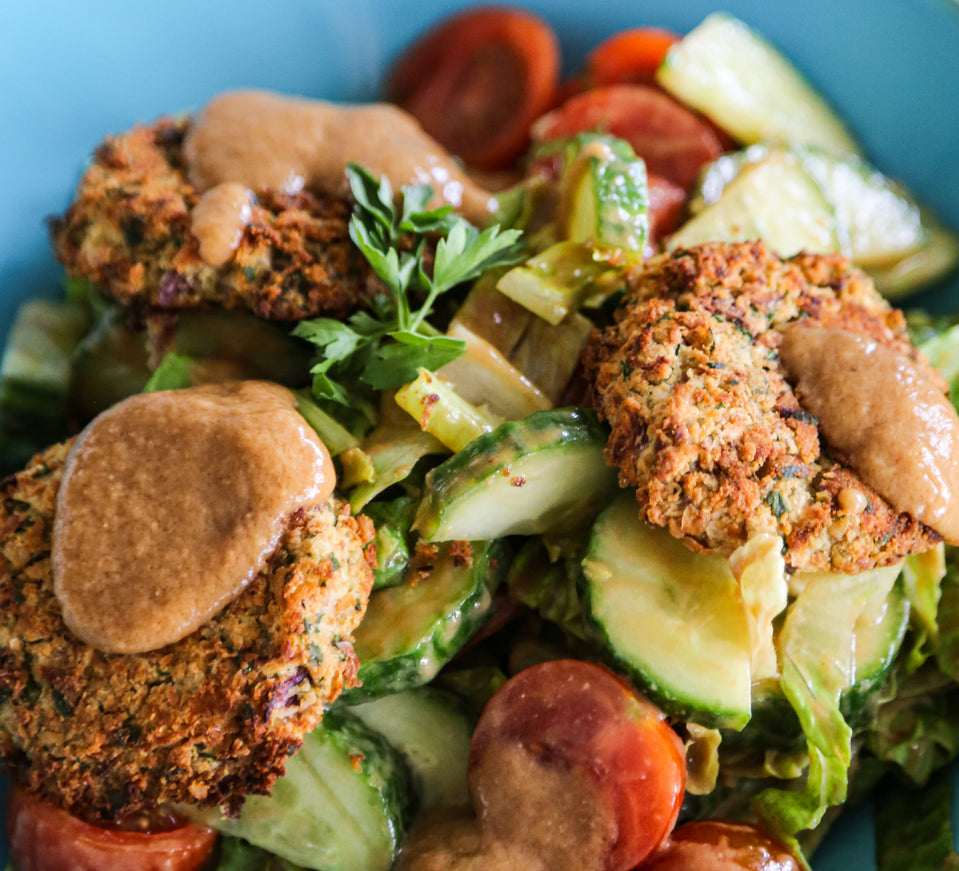 Falafel & Miso Tahini Salad
A delicious light salad starring our Miso Tahini Dressing. This is a lovely dish to share with all the family!
INGREDIENTS for 4:-
1/2 red onion
200g chickpeas
25g parsley, chopped
2 garlic cloves
2 tbsp lemon juice
1 tbsp cumin
1 tbsp olive oil
1 lettuce (or greens of choice)
1 cucumber, sliced
100g cherry tomatoes
100ml miso tahini dressing
Method
Dice red onion finely and add half to a food processor along with chickpeas, parsley, garlic, lemon juice, cumin, oil & a sprinkle of
salt.
Process & pulse until evenly ground.
Preheat oven to 180C. Heat a saucepan with a spoon of oil over a medium heat. Take mix and form into 12 separate patties (approx. 2 tbsp per patty) and cook until browned before flipping.
Place patties onto a lined baking tray. And bake for 10-15 minutes.
To assemble, mix salad greens, cucumber, cherry tomatoes & half of the tahini dressing into a large bowl and toss.
Split mix into 4 separate bowls, top with falafel patties. Drizzle with remaining dressing.
Leave a comment