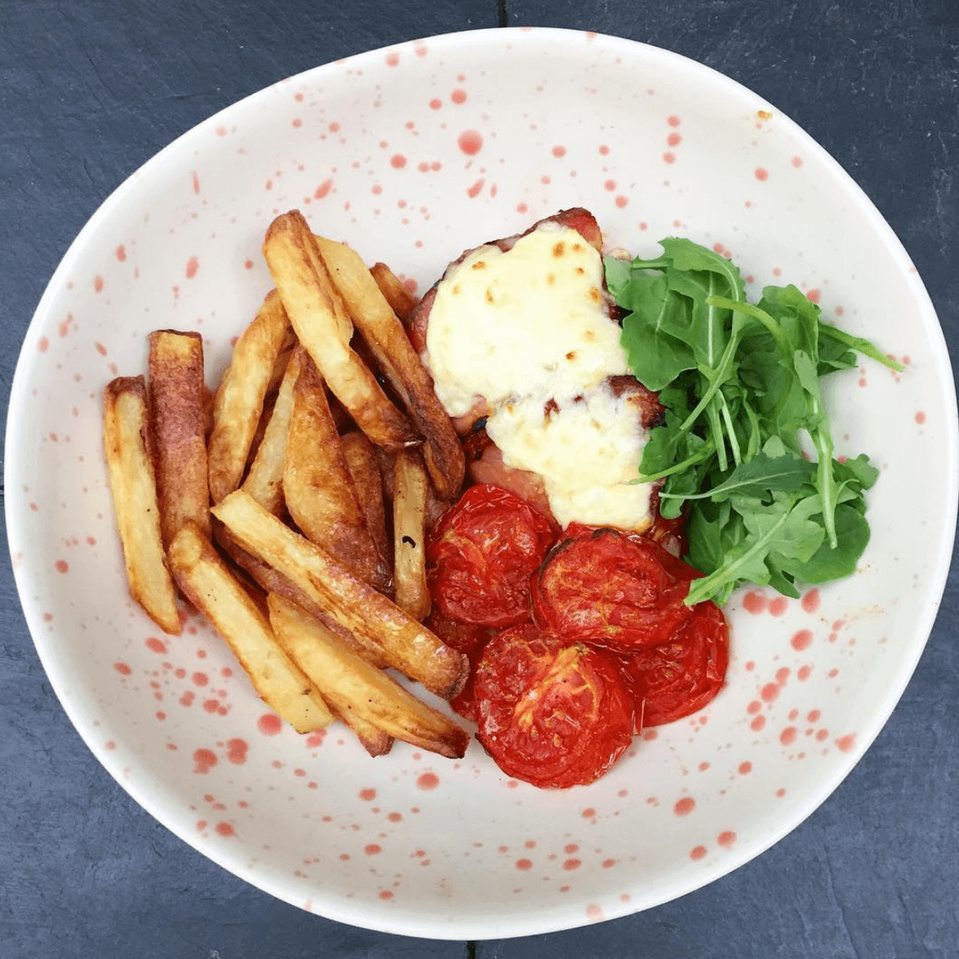 Hunter's chicken, or cacciatora – a slow-cooked chicken stew, with a hearty tomato and red wine sauce – is a stalwart of the traditional Italian menu. You may have paused to wonder what kind of hunter, Fantastic Mr Fox aside, would go out hunting and come back with a chicken. Not a very adept one, we'd guess. But jokes aside, it's more likely this dish was cooked up for hunters after a tiring day's graft or as Jamie Oliver puts it 'the type of food that a hunter's wife cooks for her fella(!) when he gets home from a hard morning spent in the countryside.' We'd have to agree with Jamie on this one, though we suspect it's more likely to have been made with game or rabbit.In fact, we've misled you. Because this 'hunter's chicken' isn't anything like the Italian original. Other than the fact that chicken is the key ingredient, there is nothing we can find that ties the two recipes together. Indeed this version is the kind you'd expect to find on a classic pub grub menu, rather than from the rustic kitchen of an Italian housewife. There's tender chicken breasts, BBQ Sauce, crispy bacon and melted cheese…what's not to love? Served up with slow-roasted tomatoes and oven-baked chips (much healthier than their deep-fried cousins), you've got yourself a delicious mid-week supper. We spoil you, we really do.
Ingredients (serves 2):
4 Large Maris Piper potatoes
2 tbsp olive oil
1 tsp celery salt
Salt and pepper
6 large tomatoes
1 tbsp olive oil
Salt and pepper
2 boneless, skinless chicken breasts
Dr Will's BBQ Sauce
4 rashers back bacon
30g grated mozzarella
Method:
Preheat the oven to 180°C. Peel the potatoes and cut them into long chip shapes – the thickness is entirely up to you, but we went for roughly the width of a finger. Rinse the potato pieces under a cold tap and pat dry with a tea towel.
Spread the chips on a large baking tray and toss with the olive oil and celery salt. Lie the chips flat in a single layer – if overcrowded, use two trays rather than one. Roast for 45-50 minutes.
As soon as the chips are in the oven, halve the tomatoes lengthwise and arrange in a shallow baking tray, cut sides up. Drizzle with oil and sprinkle with salt and pepper. Add to the oven and roast until the skins are wrinkled and beginning to brown on the bottom. They should be perfect by the time you remove your chips.
Cut the chicken breasts down the middle, taking care not to go through the bottom or sides, to create a small pocket. Place on a foil-lined tray or a small ovenproof dish.
Spoon the Dr Will's BBQ Sauce into the middle of the chicken breasts, and spread liberally over the top. Then wrap the bacon around the breasts, encasing as much of the sauce as you can. Heads up, this can get messy and as hard as it may be to resist, do NOT lick your BBQ Sauce covered fingers – salmonella is not cool.
Add the chicken to the oven, along with your chips and tomatoes, and bake for 25 minutes. Remove, sprinkle with the mozzarella, then return for a further 5 minutes, at which point the cheese should be a blanket of ooey-gooey, cheesy goodness.
Remove your chicken, chips and tomatoes from the oven and plate up. Feel free to add a dollop of Dr Will's Tomato Ketchup on the side for chunky chip dippin'. Enjoy!* 
 *Hunting stories strictly optional
We used mozzarella to top our BBQ Sauce-stuffed chicken breasts but the traditional recipe (nope, still not the cacciatora one) calls for mature cheddar. We wanted stringy, melty cheese, which is why we chose mozzarella, but we're sure good old cheddar would be just as delicious.
Leave a comment