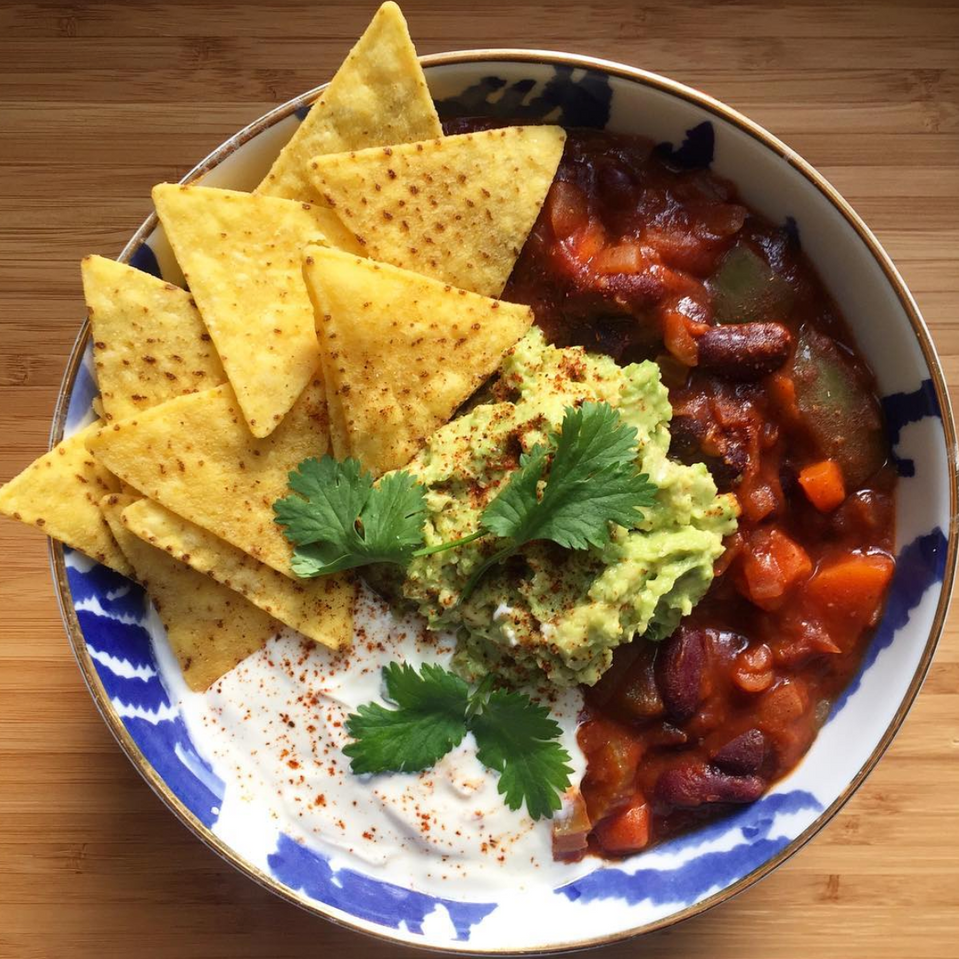 Chilli con carne is another of the exclusive dishes we've taken to our greedy hearts and bellies in this country, even going so far as to honour it with a full (unwelcome) culinary makeover – see also, hunter's chicken, bolognese, pad thai and paella. Our nation's own take on chilli is traditionally served bursting out of microwaved jacket potatoes, or in a messy pile atop a ring of white basmati rice. Soured cream and suspiciously orange cheese obligatory.After some research we've learned a lot about chilli. First off, it should never involve a jar endorsed by a certain Lloyd Grossman. Second – and most importantly – there is no definitive recipe. Chilli con carne is a hybrid of a dish, descended from the efforts of generations of cooks, cowboys and university students stewing up meat and beans. We feel that this makes it okay for us to tinker with the recipe to make our own signature version, and we encourage you to do the same. Our chilli sin carne swaps mince for hearty chunks of sweet potato, whilst emulating the depth of flavour of its meaty counterpart. It's easy to make, and even easier on the wallet.
Ingredients (serves 4):
For the chilli:
1 large sweet potato
2 onions
2 carrots
1 pepper
2 sticks celery
2 garlic cloves
2 tbsp olive oil
1 tsp ground cumin
1 tsp ground cinnamon
1 tsp hot chilli powder
Salt and pepper, to taste
2 x 400g tins red kidney beans in chilli sauce
1 x 500g carton passata
3 tbsp Dr Will's Tomato Ketchup/BBQ Sauce
Handful fresh coriander leaves
For the guacamole:
2 avocados
Salt
1 tbsp lemon/lime juice
Tortilla chips
Soured Cream
Method:
Heat the olive oil in a large nonstick pan. Peel the sweet potato then dice into bite-sized chunk and, once it's hot, add to the pan.
Peel and finely chop the onions, carrots and garlic. Trim the celery and de-seed the pepper (we went green as we feel the poor thing always gets left out) and, likewise, chop finely. Alternatively, roughly chop all the veg and garlic and whizz in a food processor until finely chopped – it doesn't matter if there are bigger chunks left.
Add all the vegetables to the pan and cook, stirring frequently for 10 minutes, or until they start to soften. By this point the larger sweet potato chunks should have got a nice head-start in terms in cooking through.
Stir in the spices and cook for 30 seconds, until fragrant. Then add the kidney beans, passata and Dr Will's (both the Tomato Ketchup and BBQ Sauce would work well here – we went for the former). Half fill one of the tins with water, give it a swirl then pour into the second tin and the carton of passata, and tip into the pan.
Stir well and bring to the boil. Once bubbling partially cover the pan and simmer, stirring occasionally, for around 30 minutes until the vegetables are tender.
Cut the avocados in half and remove the seed from each. Scoop out the flesh into a small bowl and mash roughly using a fork. (Don't overdo it – the avo should be a little chunky). Sprinkle with salt and lime or lemon juice.
Serve in deep bowls, topped with a spoonful of your chunky guacamole, soured cream and a helping of tortilla chips. Finish with a sprinkling of coriander. ¡Provecho!* 
*In Mexico, it's customary to say 'provecho' (proh-veh-cho) before starting a meal. It comes from the word 'aprovechar' which means 'to make the most of it' – the equivalent to the English 'enjoy your meal'!
7 ways to eat your chilli:
Wrapped in tortillas (flour or corn). 
Spooned over tortilla chips, topped with a generous treating of cheese and melted in the oven. 
Served with guacamole and salsa for dipping. 
With rice, soured cream and chutney. 
In crispy taco shells with all the trimmings. 
In a toasted cheese sandwich (don't knock until you try). 
With sautéed greens and salsa.With a cornbread topping à la Nigella.
Leave a comment