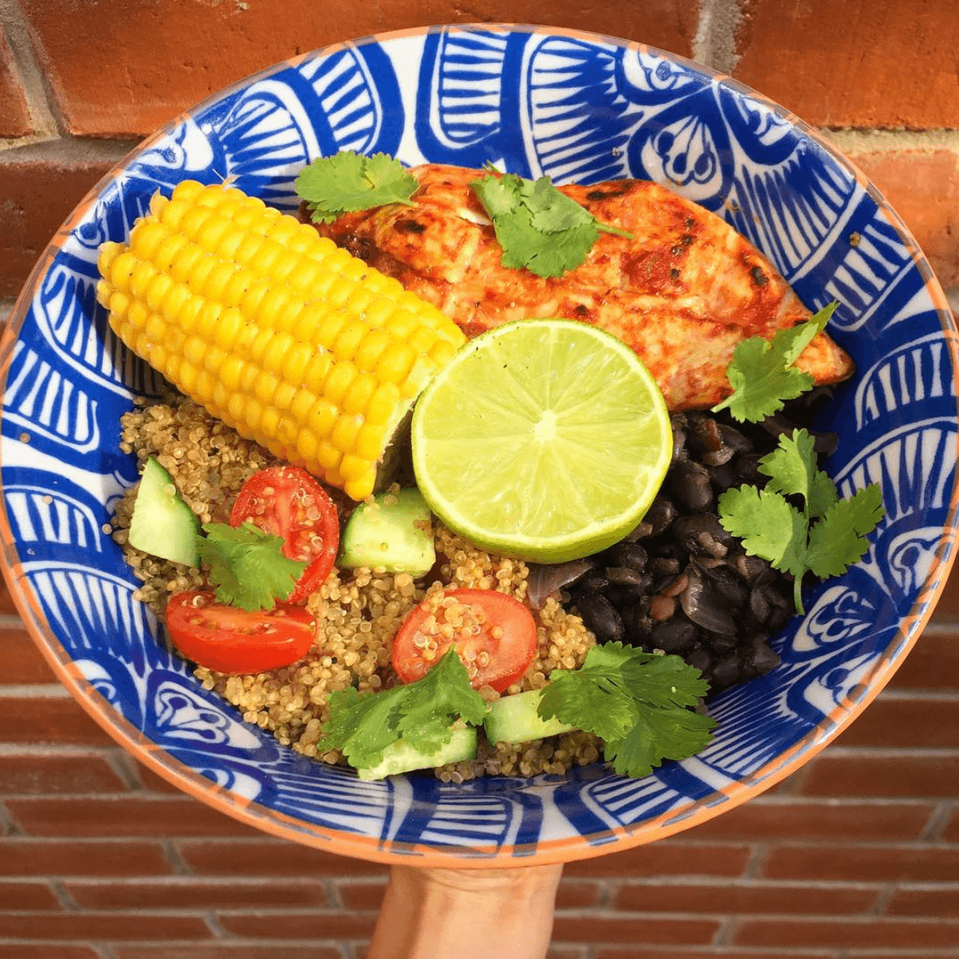 BBQ Glazed Chicken and Quinoa Bowls
It's the new culinary trend that all chefs, cooks and influencers are talking about: bowl food. Or, for the benefit of the late comers to the deep dish party: food in a bowl. The concept of 'bowl' meals is pretty simple – you toss a bunch of ingredients into a bowl, and BAM! you've got yourself a wholesome, nourishing meal. These bowls – sometimes referred to as hippie, glory or even Buddha Bowls (odd that one of the biggest trends in the health food world is named after a man with a big, round pot belly) – are so popular because they are typically hearty, filling dishes made with various greens, beans, proteins and healthy grains. Depending on the recipe you choose to follow (pick ours, pick ours!) your deep-rimmed dish is guaranteed to be overflowing with vibrant food, and jam-packed with filling nutrients and vitamins perfect for boosting overall health.What we love about these bowls so much is that you can play around with the basic formula to make a number of great-tasting and great for you meals. Can't find quinoa on the supermarket shelves and too shy to pronounce it to the shop-floor worker ('kee-NOO-wah', 'kee-NOO-wah')? Substitute for brown rice. Not a fan of black beans? Try your hand at making fresh guacamole – it's easy peasy, trust us. Personally we think this Mexican inspired recipe is perfectly packed with favour and wonderfully filling, but see what we mean? If you follow the loose guidelines, no matter what you pick, you're guaranteed a quick, easy and nourishing meal.
Ingredients (serves 2):
For the Quinoa:
60g (1 cup) of The British Quinoa Company Smoked Quinoa
350ml water
¼ tsp ground paprika
Handful of cherry tomatoes
½ cucumber
For the Chicken:
2 skinless, boneless chicken breasts
5 tbsp Dr Will's BBQ Sauce
For the Beans:
380g carton/tin of Black Beans
½ red onion
1 garlic clove
1 tbsp fresh coriander
Salt to taste
2 sweetcorn cobettes/1 large corn on the cob
Fresh coriander
1 lime
Method:
Place the smoked quinoa into a pan, along with the water, paprika and a pinch of salt. There's no need to wash the quinoa grains beforehand, as this will wash away the smokey flavour.
Bring to the boil, before reducing the heat to low and placing a lid on the pan. The quinoa is ready when all the liquid is absorbed (approximately 15 minutes) and once forked, the quinoa is light and fluffy.
Leave to cool. Halve the cherry tomatoes and cut the cucumber into small, bitesize chunks, and then add to the cooled quinoa.
Preheat your grill to a medium-high heat (190°C). Pour the Dr Will's BBQ Sauce into a shallow dish. One by one, dip the chicken breasts in the sauce, and turn to coat. Place on grill to cook for 15 minutes, turning once.
Meanwhile, drain the beans and in a medium saucepan, combine with the diced red onion and garlic, and place on a medium-low heat. Season with coriander and a good pinch of salt and allow to simmer for 10-15 minutes until tender and creamy. If you can't find tinned black beans, use dried. You can also try tinned borlotti, or even kidney, beans.
Place the corn into a pan filled with boiling, salted water. If your corn is very fresh, it should cook in around three to five minutes, For corn that's been lying in the fridge drawer a day or two (guilty), go for six to eight minutes. Alternatively, lightly brush the kernels with olive oil and add to the grill, rotating the corn regularly to keep it from charring too much on one side. This should take around 15 minutes so would need to go in at the same time as the chicken breasts.
Time to bowl up. Add a hearty helping of both the smoked quinoa mix and the thickened beans to a bowl (doesn't have to be as patterned as ours). Remove your BBQ-glazed chicken breast from the grill and add to bowl, along with the boiled/grilled corn. Garnish with half a lime and a sprinkling of torn, fresh coriander*.
Before you dig in, be sure to take a picture of your bowl because, according to social media, it doesn't technically exist unless photographed and captioned with #positivevibes #mindfulness #bowlislife (maybe not the last one).
*Listen up, coriander haters. Yes you. We realise that not everyone shares our love for this cleansing green herb (it lowers blood glucose levels, aids in digestion, fights Salmonella bacteria, prevents nausea, acts as an anti-inflammatory, raises good cholesterol and is a great source of dietary fibre TO NAME A FEW) However, we accept that genetics are a likely culprit (taste soapy? yep, it's genetics) so feel free to use another humble herb – basil or mint, would work just as nicely.
A great thing about these bowls is that they're perfect for Sunday night meal prep. Simply double, or triple up on ingredients and you can enjoy a healthy, fuss-free lunch throughout the week. This recipe has four tasty components and only requires around 30 minutes of cooking time (no-one wants to be slaving over the stove on a Sunday night). Whip up a bigger batch and pack in tupperware containers to stash in the fridge and you've got yourself super healthy grab and go lunches all week long – saving you time and £££.
Leave a comment