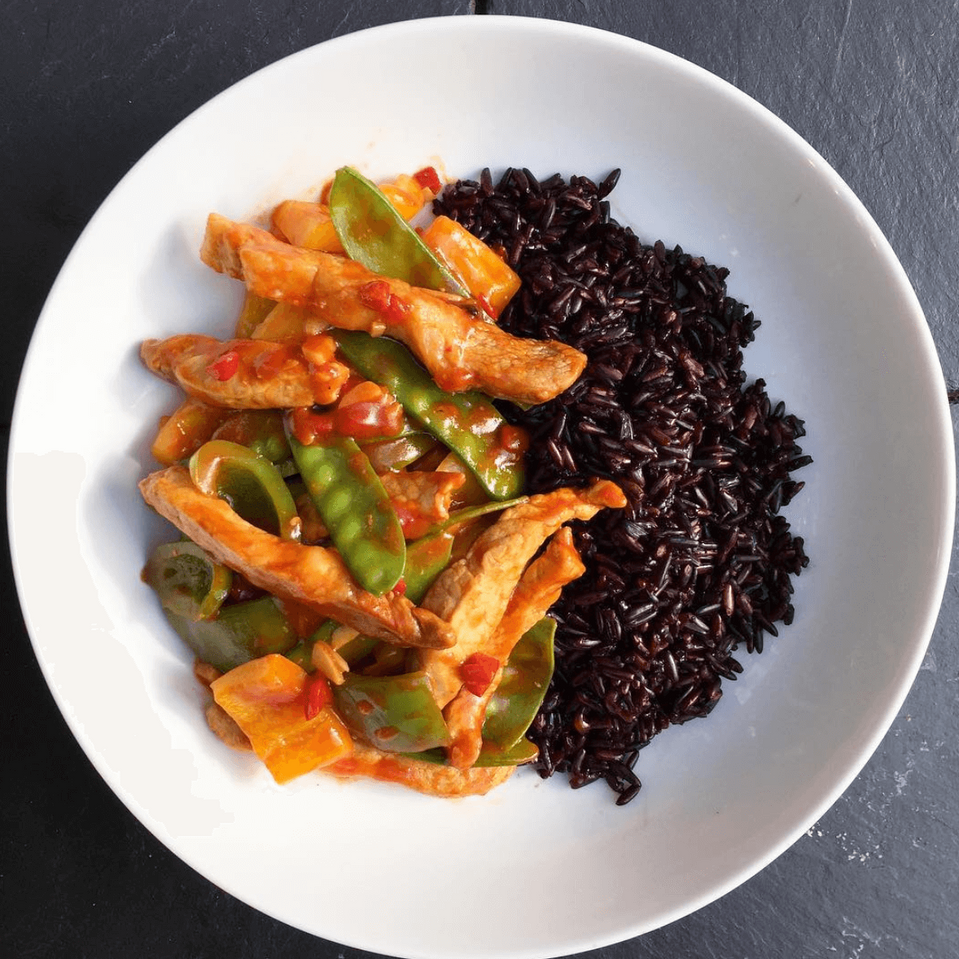 Sweet and Sour Pork with Black Rice
This morning as we travelled to Dr Will's HQ we read that the average Briton forks out a whopping £78.42 a month – nearly £1,000 a year – on takeaway food, with Chinese food being the No.1 culprit. The prawn crackers may often come for free, but it seems that our taste for Chinese takeouts doesn't come cheap. Indeed, spending that amount of money for a greasy paper bag of spring rolls and orange gloop is enough to leave a (sweet and) sour taste in the mouth.So this week, we've rustled up a healthy version of a takeaway favourite. We've thrown together succulent pork, mangetout and peppers alongside nutty, black rice to make a sweet and sour dish that'll get your tastebuds going. Okay, so it's not quite as easy as dialling up the local Chinese, but it's simple to make and won't break the bank.
Ingredients (serves 2):
200g black rice
2 peppers
150g mangetout
2 garlic cloves
1 red chilli
2 pork loin steaks
1 tsp cornflour
2 tsp soy sauce
2 tbsp Dr Will's Tomato Ketchup
2 tsp honey
1 tbsp apple cider vinegar
1 tbsp olive oil
Method:
Rinse the rice and place in a saucepan with 1L boiling water and a good pinch of sea salt. Bring to the boil, then simmer for 30 minutes.
Dice the peppers (we used one yellow and one green, but any colour will do!) into bite-sized pieces, trim the mangetout and finely chop the garlic and red chilli. For extra heat, leave the chilli seeds intact. Slice the pork into long, thin strips.
To make the sauce, mix the cornflour with 2 tbsp of cold water. Then add the soy sauce (use tamari to make gluten-free), Dr Will's Tomato Ketchup, honey and apple cider vinegar. Mix well.
Heat a medium-sized pan with the oil over a medium heat. When hot, add the garlic and chilli and leave for 1 minute. Add the sliced pork and cook for 7 minutes until golden, then add the peppers and mangetout for a further 5 minutes.
Add the sauce and simmer for 5 minutes, until the pork is cooked and the sauce is warmed through.
Drain the black rice and split between two plates, then spoon over the sweet and sour pork. Pig out.
Not a big pork lover? This recipe can be made with chicken or prawns – whichever you choose, it'll be much tastier than anything to come out of a polystyrene box. As for the rice, we chose to pair our sweet and sour dish with a helping of nutty, black rice. Rich in powerful disease-fighting antioxidants, black rice is an impressive grain in terms of both health and taste. Feel free to use your favourite, but we think you'll love the change!
Leave a comment