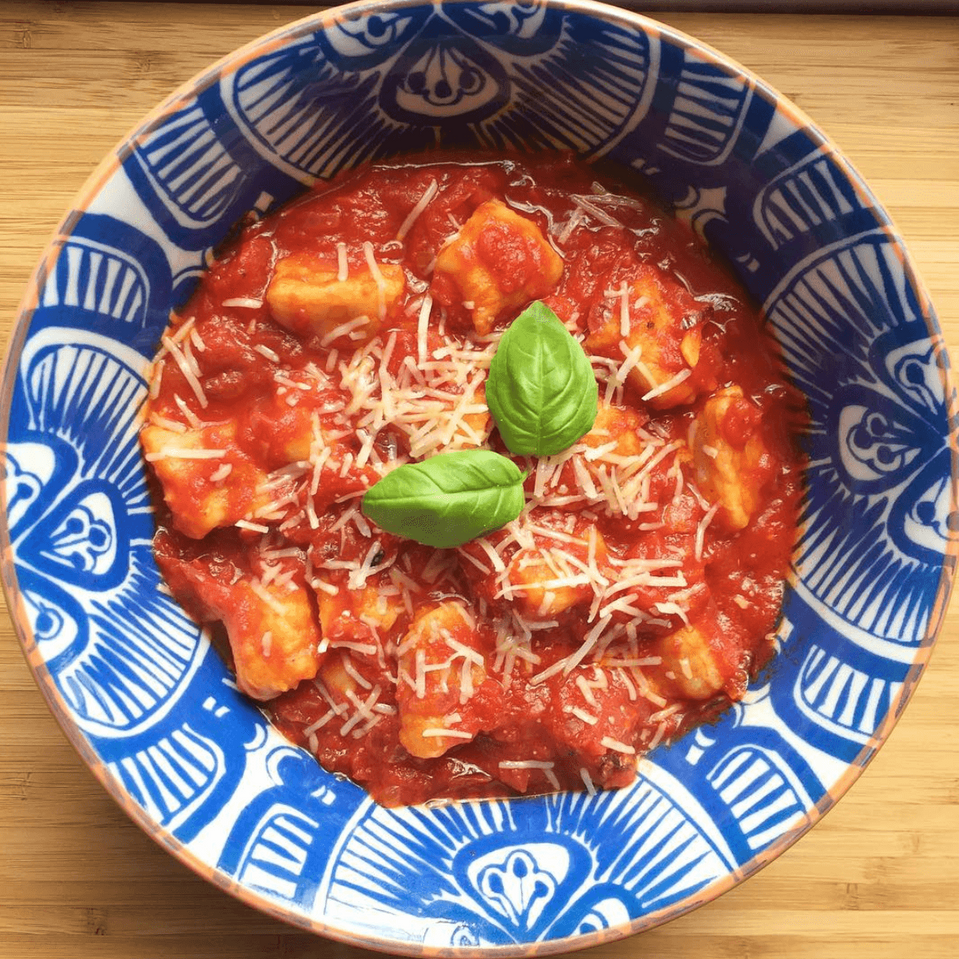 With pumpkins casting an eerie glow in windows and on porches around the world this Halloween, spare a thought for the tens of thousands of tonnes of the squash that get tossed in the rubbish after a hard night's work of spooking. While American pumpkin buyers enjoy turning their fruit (it's got seeds so yes, it's a fruit!) into seasonal soups, pies and tarts, our pumpkins are more likely to end up in the bin than on our plates.Give your squash a new lease of life this Halloween with these soul-warming pumpkin gnocchi, served with a super simple tomato sauce. Become the master of pasta and knock up your own gnocchi – it takes a bit of work but the end result is a dish so comforting and satisfying, you'll never toss a pumpkin again.
Ingredients (serves 3-4):
For the gnocchi:
600g pumpkin
1 tbsp olive oil
1 egg
½ tsp chilli powder
½ tsp nutmeg
½ tsp salt
225g plain flour (plus a little more for rolling)
For the tomato sauce:
1 tbsp olive oil
1 large onion
2 garlic cloves
2 tins of chopped tomatoes
2 tbsp Dr Will's Tomato Ketchup
1 tsp oregano
Salt and pepper, to taste
Fresh basil
Parmesan
Method:
Preheat the oven to 180°C. Peel the pumpkin, remove the seeds and chop into small cubes. Place the pumpkin pieces onto a baking tray and drizzle with the oil, then add to the oven for 35 minutes or until soft. It's important not to overcook the pumpkin as it will become watery.
Remove from the oven and leave to cool, ideally for 1-2 hours. Once cool, place in a blender and puree until smooth. Don't add any water or oil if you think it looks overly dry – this is exactly how you want it to be!
Next add the egg, chilli powder, nutmeg, salt and flour to the pumpkin puree and mix together until it forms a dough-like texture. The dough should be easy to handle – if it's too sticky add a little more flour.
Transfer the dough to a clean, floured surface. Take a small handful of the dough at a time and roll out into a long sausage, about ½ inch in width, then cut into small 1 inch chunks.
Heat the oil in a pan over a medium heat. Peel and finely chop the onion and garlic, then add the onion and cook gently for 3 minutes, until it begins to soften and pale in colour. Add the garlic and cook for a further 2 minutes.
Add the chopped tomatoes, Dr Will's Tomato Ketchup and oregano to the onion and garlic mix. Refill one of the chopped tomato tins with water and add to the pan. Stir and season well, and simmer for 20 minutes.
Bring a pan of salted water to the boil. Drop the gnocchi into the pan, ensuring they don't stick together by swirling the water with a spoon. Boil the gnocchi for 2-3 minutes, or until they rise to the top of the water.
Once ready, drain and add to the frying pan with your tomato sauce. Leave to cook for around 30 seconds, stirring gently so as to coat the gnocchi.
Remove from the heat and serve up into deep bowls. Finish with torn basil leaves and a dusting of grated parmesan. Gnoch yourself out.  
While these pillowy treats are the perfect way to use up leftover pumpkin, if your spooky squash is past its best or you're feeling a tad traditional, go ahead and use classic white potato. Pumpkin, however, is seriously good for us. It's packed with antioxidants and vital vitamin A, and is also a fantastic source of fibre. Just sayin'.
Leave a comment