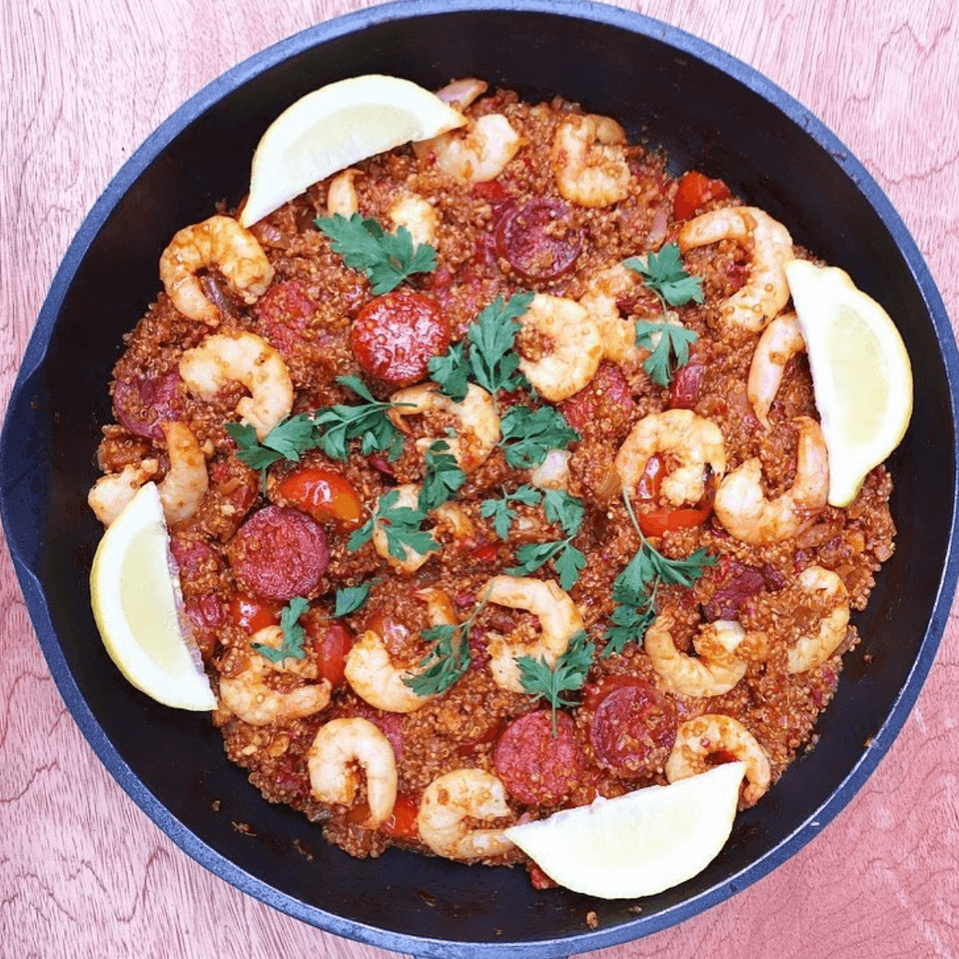 Quinoa Paella with Prawns and Chorizo
Paella. Without doubt one of Spain's most well-known and well-loved culinary delights. Many of us will have enjoyed the classic dish scooped straight from a pan placed in the middle of a restaurant's table, surrounded by friends or family in the sunnier climes of Spain. Sounds dreamy, right? Wrong. We don't know whether you've heard, but there's a dark side to paella, a side clamouring for authenticity and condemning all other interpretations as merely 'rice with stuff'.
According to Valencian's who claim the dish as their national birthright, the addition of fish and shellfish are completely out of the question. Chicken and rabbit, meanwhile, are mandatory – with snails an optional extra. One thing is made crystal clear, chorizo is a big no-no. Jamie Oliver posted a paella recipe last year using chicken thighs and chorizo – so savage was his subsequent trolling on social media you'd have thought he'd tried to make school dinners healthy again. However, what is understood in Valencia is that whether it contains seafood or god-forbid the odd slice of chorizo, paella is above all a rice dish – and that it is ultimately good rice, and not it's add-ons, that makes a legitimate paella.
So in the nature of going against the grain (*winky face*)/completely ignoring the handbook on how not to aggravate paella preservationists, we've come up with our own twist on the Spanish dish made with the superfood quinoa instead of white rice and studded with plump prawns and, you guessed it, chorizo. It's true that many recipes 'with a twist' can put the reader in a state of high alert (adding pineapple to anything is the most prevalent of foodie crimes) but paella is a dish so versatile that you can tweak it and twist it as you like, and you're pretty much guaranteed to end up with an impressive crowd pleaser.
While Valencian's would probably call this dish an abomination to all they hold dear (#sorrynotsorry), we think quinoa is a worthy substitute. In fact, we'd go as far to say that quinoa is twice as nice as rice. And we're not just saying that because it rhymes and sounds cool. Quinoa is loaded with dietary fiber; it's one of the few plant-based complete proteins meaning it contains all nine of the amino acids your body needs; and it's jam-packed with minerals. So if, like us, you want to quinoa, or even Uncle Ben's quick-cook rice for that matter, go for it. Perhaps just avoid telling all your paella die-hard pals unless you're up for a food fight, and not the fun kind.
Ingredients (serves 4):
225g of chorizo
1 medium onion
4 garlic cloves
3 tbsp Dr will's Tomato Ketchup
Good pinch of salt
1 tsp smoked paprika
Two pinches of saffron threads
½ tsp turmeric
½ tsp red chilli flakes
250g British Quinoa Company Quinoa
750ml chicken stock
200g raw king prawns
Handful of cherry tomatoes
1 lemon
Fresh parsley
Method:
Heat a large saucepan over a medium heat. When the pan hot, add the sliced chorizo and cook for three to four minutes until lightly charred. Remove from the pan with a slotted spoon, leaving behind the chorizo oil and set aside.
Add the finely chopped onion and sauté for five minutes, until softened and golden. Stir in the chopped garlic and continue to gently cook until fragrant, for about one minute. As always, keep an extra careful eye on the garlic as it will burn easily.
Add the Dr Will's Tomato Ketchup and continue to cook for two-three minutes. Add the salt, paprika, chilli flakes, turmeric and saffron, mixing well.
Add the quinoa and stir well until all the grains are evenly coated in the oil and spices, and the quinoa is evenly distributed around the pan.
Stir in the stock and bring to a boil. Reduce the heat to low and let the quinoa simmer for about 10 to 15 minutes.
Place the prawns on top of the mixture. Using the back of a spoon, press the prawns into the quinoa so that they are almost covered with the remaining liquid. Add the cherry tomatoes, chopped in half, and continue to cook for 10 more minutes, or until the liquid is completely evaporated. Finally, red-add the charred chorizo to your quinoa mix.
To serve, spoon the quinoa paella into warm bowls and sprinkle over the chopped parsley. Or, to honour tradition, stick the pan in the middle of the table and get stuck in. Serve with lemon wedges. 
Just like many of the recipes we post here at Dr Will's, this quinoa paella is completely customisable. You can change up the veggie combo based on what you have at hand, and can add more or less meat or seafood to suit your lifestyle and tastes. Saffron too pricey? Stick with turmeric – you'll still get that beautiful, yellow hue. Want to bump up the plant-based proteins? Get some chickpeas or beans in there. And you know what, call it whatever you please – quinoa paella, quinoa medley, quinella (careful, moving into Waitrose Mushotto territory – see last week's post) – as long as you're making food that makes you happy, we're happy too.
Leave a comment