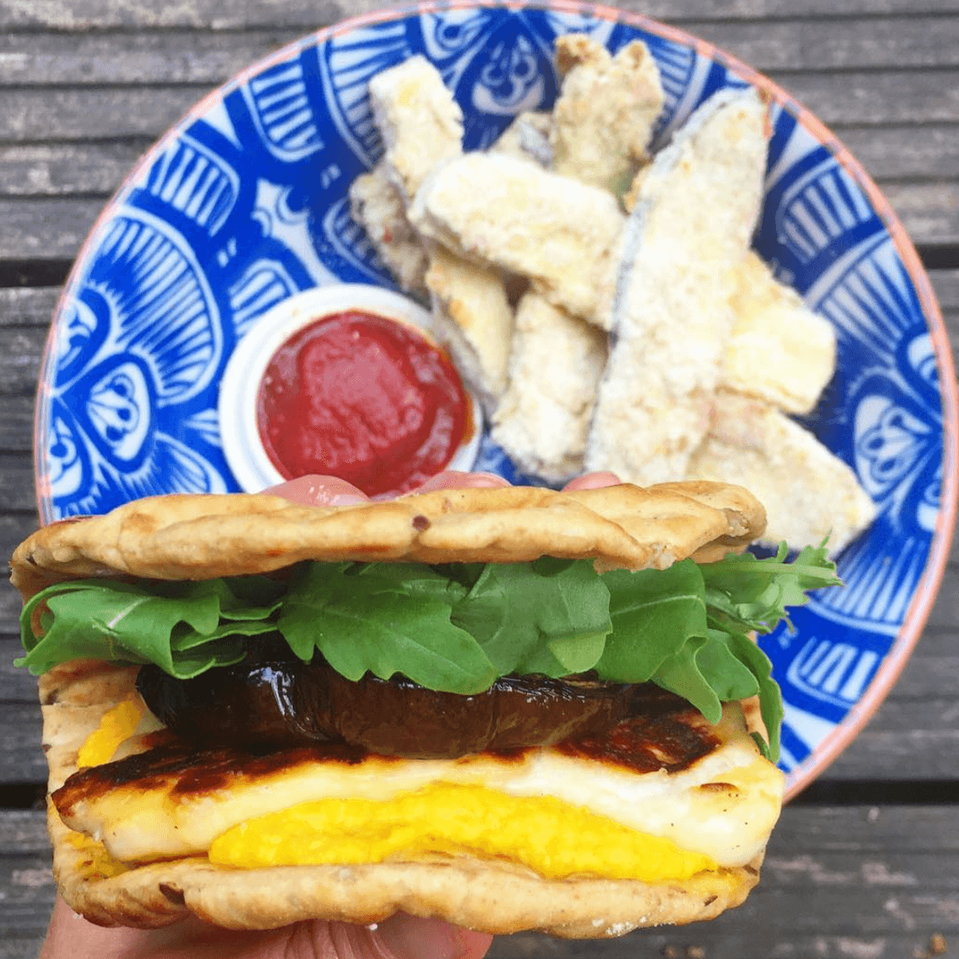 Aubergine, Halloumi and Hummus Flatbreads with Courgette Fries
What is the meaning of life? Does free will really exist? Are there parallel universes? Why do we dream? Is a chip still a chip if it's not made with potatoes? Indeed these are some of life's greatest questions, but fortunately for you it is just the latter that we'll be addressing in this week's recipe.
Where to begin. Well it all started with courgetti – a vegetable alternative to spaghetti made from spiralised or julienned courgettes that took the healthy eating scene by storm. A couple of years down the line and almost every supermarket has pre-spiralised courgetti in stock, along with plenty of other more-veg-less-carb foodie items. From waffles made out of butternut squash (squaffles?) at Sainsbury's to cauliflower couscous in Tesco, there are now a vast array of products you can use in place of traditional carbohydrates. 
While some of these creations have got a bit extreme and, frankly, a tad bizarre (Waitrose's Mushotto, we're looking at you) here at Dr Will's we're all about mixing it up and getting in more of those five-a-day. So in answer to the original question – a courgette chip will never be the same as a chip shop chip…but it'll taste bloody great, and leave you feeling great, too.Fries are one of the ultimate comfort foods, and while there's no denying how satisfying a salty serving of fried potatoes can be, enjoying this style of food (the best kind) doesn't have to be a guilty pleasure.
It's easy peasy to make healthy fries/chips/wedges at home, and branching out from your usual white spuds is a great way to up the nutritional value while still enjoying one of your favourite savoury treats. Hear that? Just because you're trying to eat well no longer means forgoing fries. French fries may be off the menu but not all fries are created equal – using the right veg, seasonings and cooking techniques (baking>frying) you can make delicious fries to feel good about this summer.
Ingredients (makes 4 flatbreads):
For the Courgette Fries:
2 large courgettes
1 cup breadcrumbs
¼ cup grated parmesan (optional – can substitute for more breadcrumbs)2 Eggs
2 tbsp olive oil
Salt and pepper to taste
For the Flatbreads
1 Tbsp olive oil
1 large aubergine
250g halloumi
4 tbsp hummus
Rocket
4 flatbreads
Method:
Preheat the oven to 220°C. Line a baking sheet with aluminium foil and lightly grease with oil. Set aside.
Combine the eggs in a small, shallow dish. Combine the breadcrumbs and parmesan cheese in another bowl. Prepare the courgette by topping and tailing, and cutting into 1/2 inch wedges.
Dip the courgette pieces into the eggs followed by the breadcrumb mixture, making sure to coat evenly. Repeat with all the courgette pieces and transfer to your pre-greased baking sheet.
Season with salt and pepper then drizzle with olive oil or generously cover with cooking spray. Bake in the oven for 30 minutes, turning once.
Meanwhile heat 1 tbsp of oil over a medium heat. Cut the aubergine into 1/2 inch rounds, at its widest part (save the remaining aubergine for another recipe, see Aubergine Parmigiana) and cut the halloumi lengthways into 4 chunky slices (all the cheese, please). Fry the aubergine for a few minutes on each side, or until tender. In the remaining oil fry the halloumi until golden and crispy – this should take a couple of minutes on each side.
Sprinkle the flatbreads with a little water and place in the oven for two minutes alongside your courgette fries. Remove from the oven and spread liberally with a hummus of your choosing (we went for ChicP Carrot, Ginger and Turmeric Hummus and it was the bee's chickpeas).
Stack a piece of the grilled aubergine on top of your hummus layer, followed by a chunk of the halloumi. Finish with a handful of fresh rocket.
Remove your fries from the oven. The courgette should be cooked through, and the coating golden and crisp. Serve up with a hearty dollop of your favourite Dr Will's condiment. We know, we know, it's hard to choose – but we went for our classic Tomato Ketchup as nothing beats chips and tommy sauce, even if your tatties are having an identity crisis. 
We have nothing against regular chips or fries – you'll definitely never catch us saying no either. But they really don't have to be synonymous with potatoes. As well as courgette, you can easily turn just about any vegetable into fries that are crunchy and delicious. Carrots, parsnips, green beans, beets and even avocados all have the ability to magically morph themselves into your favourite savoury treats. So go on, scrap the spuds and get creative.
Leave a comment