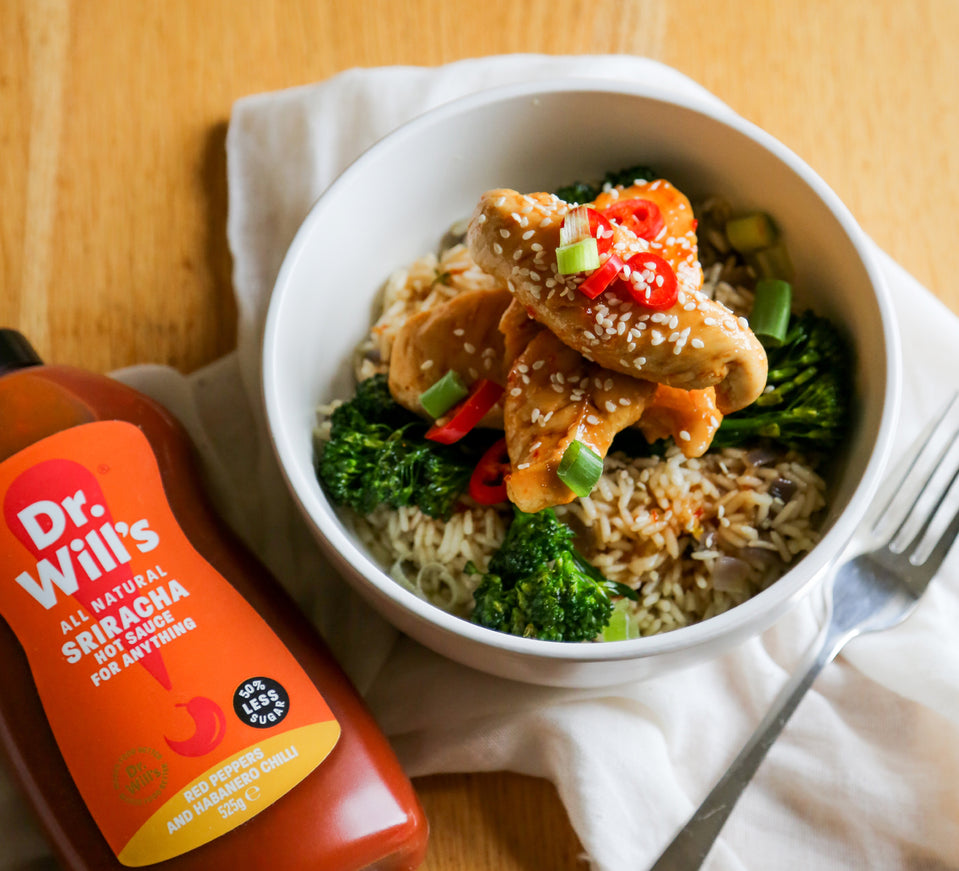 Sticky Sriracha Chicken Rice
A delicious healthy dish starring our
 

Sriracha sauce. Slightly salty, slightly sweet & slightly spicy, it's a lovely & easy rice dish!
INGREDIENTS for 4:-
30g butter
1 onion
200g basmati rice
400ml chicken stock
4 chicken breasts
Olive oil
1 broccoli
1 bunch of spring onions
4 tbsp Dr. Will's Sriracha
4 tbsp honey
1 tsp garlic puree
1 tsp ginger puree
Salt & pepper, to season 
To serve: sesame seeds & spring onions
Method
Melt the butter in a pan over a medium heat and fry onion until soft. Stir in the rice and then add chicken stock. Bring the mix to the boil and then turn the heat down and cook for 10-15 minutes until stock is absorbed.
Slice the chicken into thin strips. Add to a frying pan with 1 tbsp of olive oil until the strips are golden.
Cut broccoli into small florets and spring onions lengthways. Heat a separate pan until smoking hot. Brush the broccoli with oil and cook until charred. Repeat with spring onion.
Mix sriracha, honey, garlic and ginger. Season then stir into chicken mixture. Turn the heat to high & stir fry for 2-3 minutes.
Plate the rice, top with the veg and sauce and sprinkle with sesame seeds.
We hope you enjoy!
Leave a comment