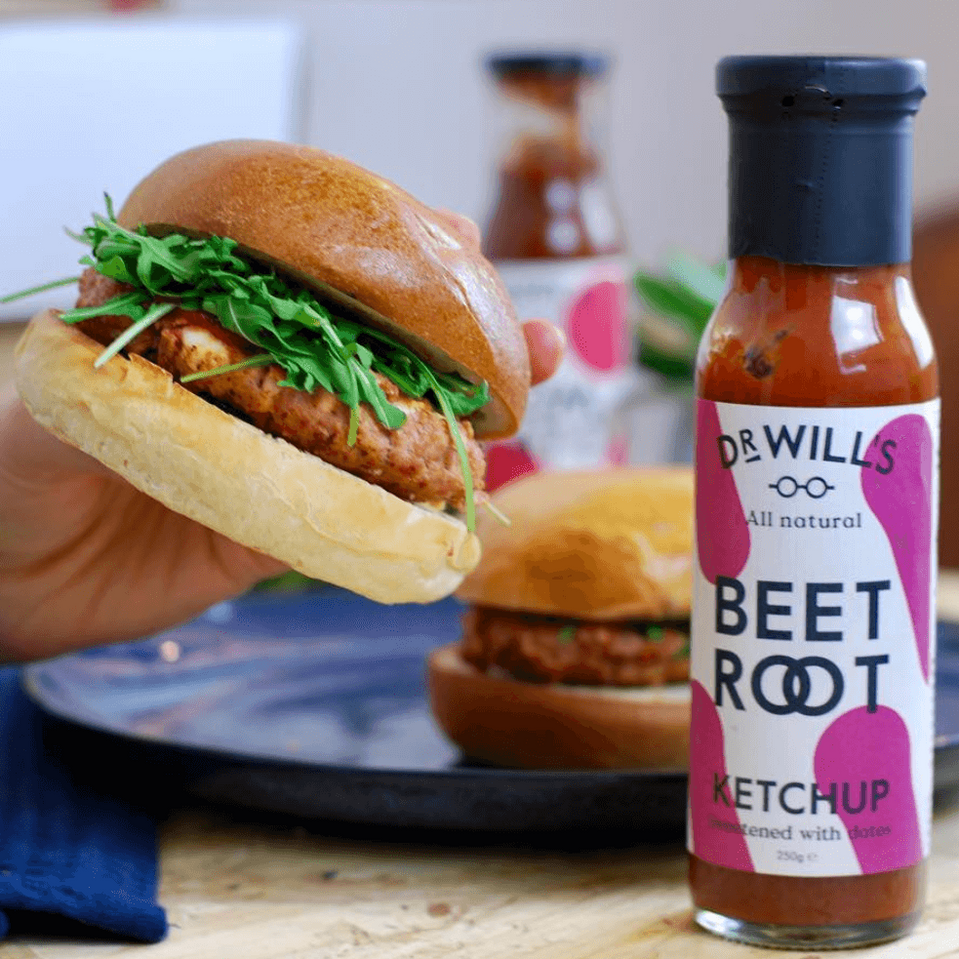 We've been loving creating recipes for our Quick 'n' Easy series and this burger was a real hit with the Dr Will's team. Combining lean turkey with creamy feta and our Beetroot Ketchup, this easy dish is packed full of flavour and will have you waving goodbye to your dreary beef burger. 
Full ingredients and recipe listed below:
Ingredients (makes four burgers):
4 brioche buns
Handful of fresh rocket
200g feta cheese
A few sprigs of fresh thyme, stalks removed
2 cloves minced garlic
500g turkey mince
4 tbsp Dr Will's Beetroot Ketchup
Method:
Crumble the feta into a mixing bowl, add the thyme leaves, garlic and turkey mince and a few grinds of black pepper, along with a good dollop of Dr Will's Beetroot Ketchup.
Combine all the ingredients with your hands and form the meat into equal sized patties.
Heat 1 tbsp of olive oil in a non-stick frying pan on a medium-high heat, place the patties in and cook for 5 minutes on each side, turning once.
Once the burgers have cooked through, take them out of them pan, wiping the excess oil away, and toast the brioche buns for a couple of minutes on each side.
Assemble your burgers, adding fresh rocket and another dollop of Dr Will's Beetroot Ketchup on top.Serve with salad or some chunky potato wedges. 
Succulent turkey and feta burgers get an added zing with the addition of our flavour-filled Beetroot Ketchup.
Leave a comment