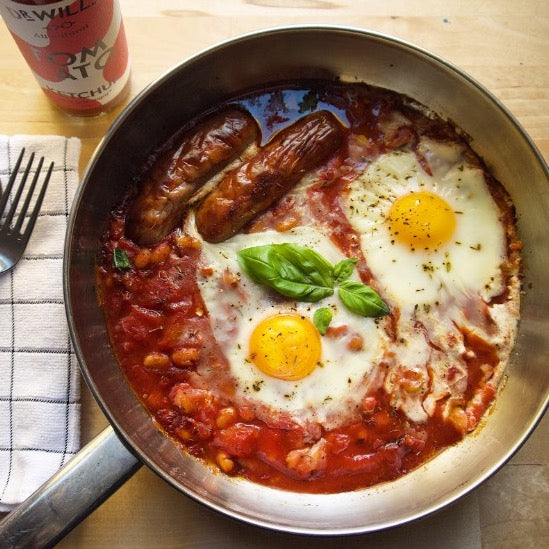 One Pan English Breakfast
No one likes washing up. Especially not on a Saturday morning when you've got more important affairs on the mind. There's leisurely newspaper reading, napping, long wintry walks and, above all, brunch.For this week's recipe we've created brunch munch with none of the frying, none of the hob-hopping and hardly any of the washing up. Imagine if Moroccan shakshuka (see recipe) and the English fry-up had a passionate breakfast love affair. This would be the resulting love child. Sausages, bacon, eggs, beans and tomato all coming together in one glorious pan. This, dear readers, is an absolute game-changer. 
Ingredients (serves 1 hungry bruncher):
2 Cumberland sausages
1 handful of chopped bacon
½ tin of chopped tomatoes
½ tin of baked beans
1 tsp chilli flakes
1 tsp smoked paprika
2 eggs
Sprinkle of thyme
Dr Will's Tomato Ketchup
Method:
Preheat the oven to 180°C. Pop your sausages in a small oven-proof dish and cook for 15 minutes.
Add your chopped bacon bits (feel free to use pancetta) and return to the oven for a further 10 minutes, until dark and crispy.
Add the chopped tomatoes, baked beans (we used supermarket own brand, with no added sugar – the best we can get 'til we make our own), chilli and paprika, and give it a good stir*.
Crack in the two eggs and bake in the oven for 10-15 minutes until the egg white is fully cooked.
Sprinkle with a dusting of pepper and thyme, and serve with Dr Will's on hand for extra tomatoey goodness. 
*Save the remaining tomatoes and beans for another time – banging breakfasts aren't just for weekends you know.  
Think this one-pan full English is somewhat lacking or un-full? Add mushrooms, hash browns and black pudding at your discretion. Just don't come back crying to us when you've got another pan or two to soak and soap.
Leave a comment