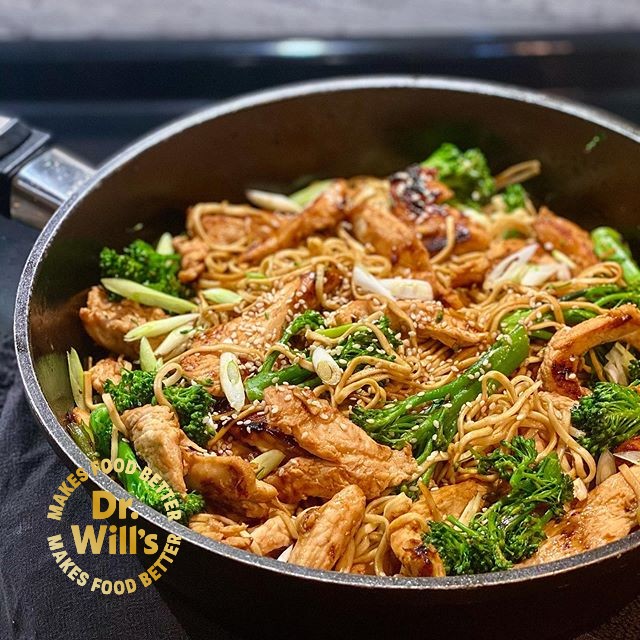 Anna's Family Kitchen Sriracha, Honey & Soy Chicken and Tender Stem Noodles
One of our favourite bloggers Anna's Family Kitchen whipped up an amazing Sriracha, Honey & Soy Chicken and Tender Stem Noodles with our Sriracha sauce. If you're as obsessed as we are, here is how you can make it.
INGREDIENTS for 4:-
4 chicken breasts sliced
3 garlic cloves crushed
2 tsp chopped ginger
3 tbsp soy sauce
1 1/2 tbsp Dr. Will's Sriracha sauce
1 tbsp honey
1 tbsp groundnut oil
4 nests medium egg noodles
300g tender stem broccoli
Sliced spring onions and sesame seeds to finish (optional)
Method
Mix together all the ingredients apart from the broccoli and noodles in a bowl.
Chop the stalks of the tender stem into 1cm pieces. Add to the bowl with the chicken.
Pour boiling water over the noodles. Allow to stand for 5 minutes. Drain and drizzle with 1 tsp sesame oil so they don't stick.
Heat a pan and add the chicken, it's marinade and tender stem stalks. Cook on a high heat for 8 minutes. Add a splash of water and the tender stem tips and cook for 2 minutes.
Add the noodles, stir and finish with a sprinkle of sesame seeds and sliced spring onions.
Pour on extra Dr. Will's if you like it super spicy.
Get your Sriracha here!
Leave a comment