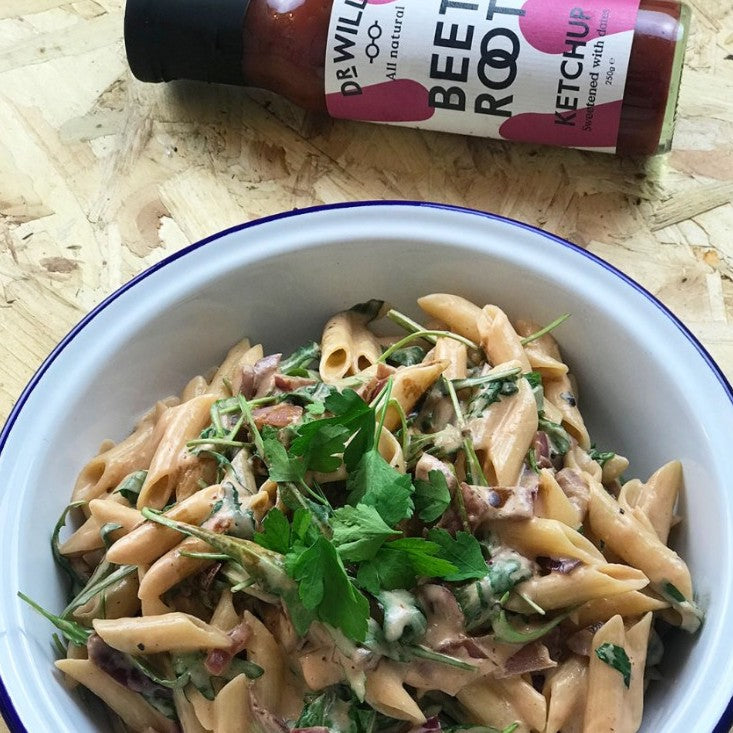 Creamy Goat's Cheese and Beetroot Penne
This recipe is the epitome of Quick 'n' Easy, as it takes less than 15 minutes from start to finish. We can guarantee it'll become a staple dish for your repertoire.
Full ingredients and recipe listed below:
Ingredients (serves 2):
150g penne pasta
1 small red onion, diced
2 big handfuls of rocket
A few sprigs flat-leaf parsley
125g soft goat's cheese, crumbled
2 tbsp Balsamic vinegar
3 tbsp Dr Will's Beetroot Ketchup
Method:
Cook the pasta in boiling water according to package instructions.
Meanwhile, in a large frying pan, heat a drizzle of olive oil over a medium heat, add the onions, and cook until softened.
Add the Balsamic vinegar and and cook for a further two minutes, then dollop in the Dr Will's Beetroot Ketchup.
Stir in the goat's cheese until melted, and remove from the heat.Drain the penne, reserving a little of the cooking water.
Add the goat's cheese sauce, cooking water, rocket and parsley, and combine together.
This pasta combines creamy goat's cheese with our vivid Beetroot Ketchup to create a rich and wildly quick mid-week supper that would impress any unannounced guest.
Leave a comment