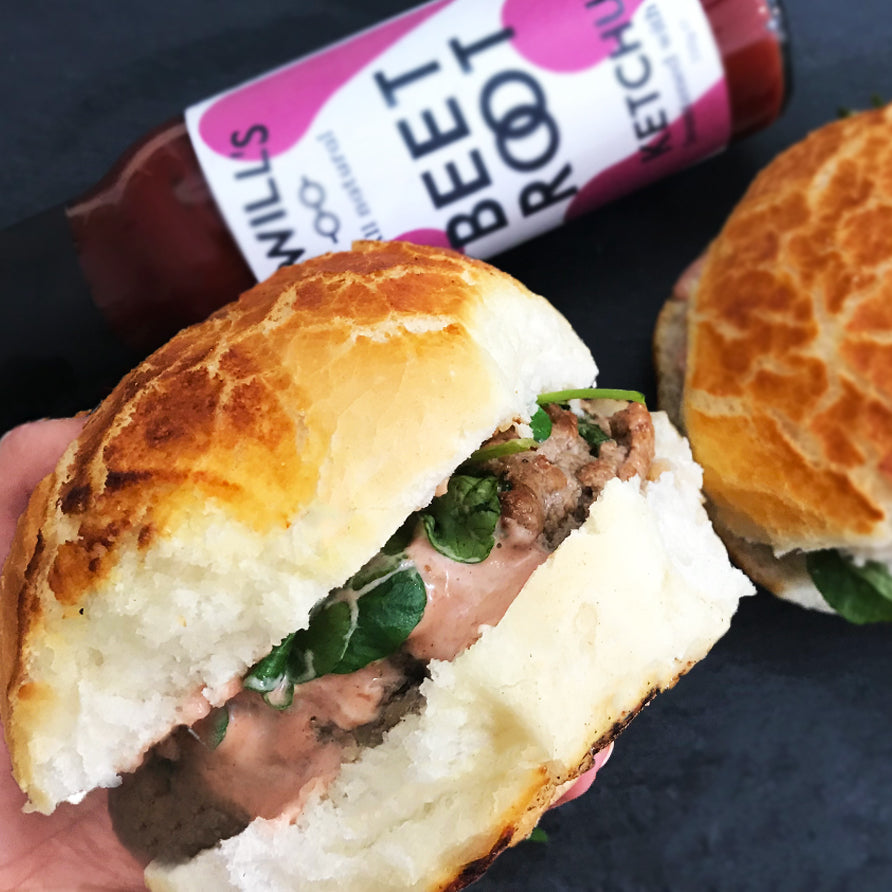 Lamb Burgers with Beetroot Mayo
We love these burgers for an easy weekend recipe. Serve with a simple lambs lettuce salad or sweet potato wedges for an extremely quick and very tasty dinner. 
Full ingredients and recipe listed below:
Ingredients:
400g lamb mince
1 red onion, half grated and half thinly sliced
Handful parsley, chopped
Olive oil
Half a bottle of Dr Will's Beetroot Ketchup
4 tiger bread rolls
Handful watercress
Method:
Mix the lamb, grated onion, parsley and 3 tbsp Dr Will's Beetroot Ketchup in a bowl with salt and pepper, and divide into 4 equal sized patties.
Heat the olive oil in a griddle pan over a medium heat, and cook the patties for 6 minutes on each side, until cooked through.
Mix the mayonnaise with the remaining Dr Will's Beetroot Ketchup and some seasoning.
Assemble your burgers with the patties, a dollop of beetroot mayo, some watercress, and onion slices. 
Switch up your classic beef burger recipe by using lamb mince. These herby burgers are quick to make and are great to freeze, with a yoghurt and beetroot sauce adding a zingy twist.
Leave a comment