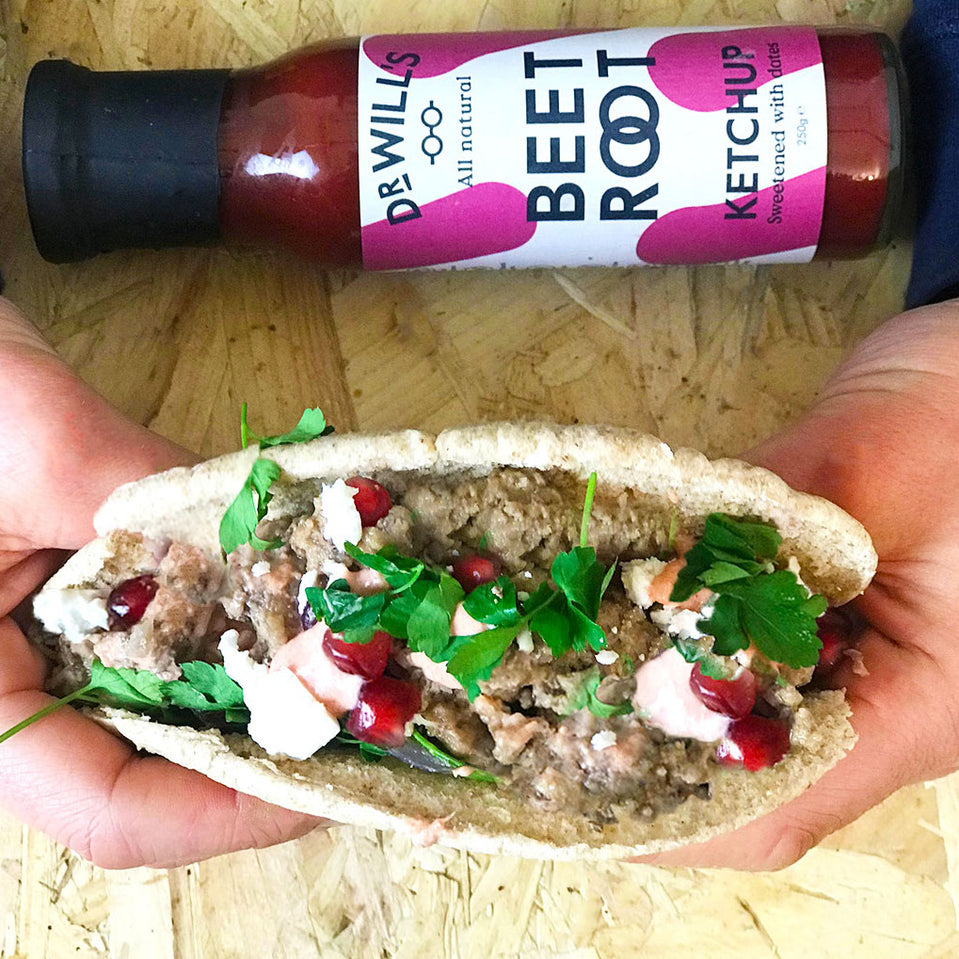 Lamb and pomegranate are a match made in heaven, however, recipes using the two often require hours of slow cooking and maximum effort. Our recipe takes less than 20 minutes from start to finish, with the zesty yoghurt dressing and beautiful jewelled pomegranate sure to brighten up any dark winter day.
Full ingredients and recipe listed below:
Ingredients:
2 Tbsp olive oil
500g lamb mince
1 red onion, diced
Wholemeal pittas
Fresh parsley
100g Feta cheese
100g Pomegranate Seeds
3 Tbsp Dr Will's Beetroot Ketchup
2 Cloves Garlic, minced
50g Greek Yoghurt
Salt and Pepper, to taste
Method:
Heat the olive oil in a large frying pan over a medium heat. Add the onion and garlic, and cook for a few minutes until softened.
Add the lamb mince, season well with salt and pepper and cook for 10 minutes until thoroughly browned. Remove from the heat.
In a bowl, combine Dr Will's Beetroot Ketchup with the yoghurt to make a sauce.
Toast the pittas, and load them up with the lamb and the beetroot yoghurt dressing, topped off with the feta, the pomegranate seeds and parsley. 
These aromatic loaded pittas will get you out of your chicken and beef rut. Garlicky lamb, creamy feta and a fresh yoghurt dressing make for a quick and easy Greek-style dinner.
Leave a comment