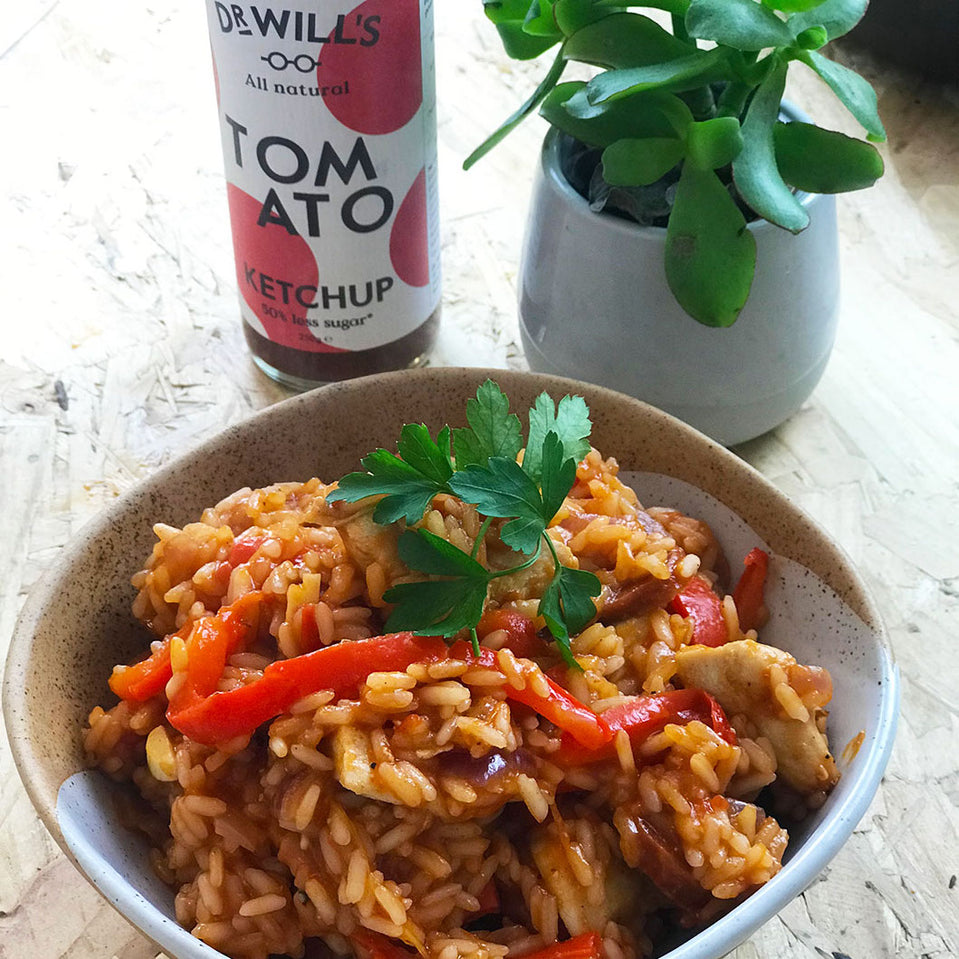 Chorizo and Chicken Jambalaya
You can use any meat you want in a Jambalaya, but ensuring you choose a smoky, slightly spiced chorizo guarantees this dish has a fantastic depth of flavour. A few tablespoons of Dr Will's Tomato Ketchup adds a bright, fresh flavour to this wonderfully rich dish.
 Full ingredients and recipe listed below: 
 Ingredients:
1 tbsp olive oil
2 chicken breasts, chopped
1 red onion, finely diced
2 garlic cloves, finely diced
1 red pepper, thinly sliced
75g spicy chorizo, sliced
1 tbsp Cajun seasoning
250g long grain rice
1 can plum tomatoes
3 tbsp Dr Will's Tomato Ketchup
350ml chicken stock
Method:
In a large frying pan, heat the oil and cook the chicken for 5-10 minutes until lightly browned. Remove and set aside.
Tip the onion in and cook for a few minutes until soft. Add the pepper, garlic, chorizo and Cajun seasoning, and cook for a couple more minutes.
Add the rice in, along with Dr Will's Tomato Ketchup, and stir well to ensure the rice is fully coated with the sauce. 
Place the chicken back in along with the stock. Cover and simmer for 20-25 minutes until the rice is tender. 
This simple one-pot rice recipe can be whipped up in 45 minutes and really hits the spot, with spicy chorizo, sweet peppers and smoky cajun seasoning.
Leave a comment