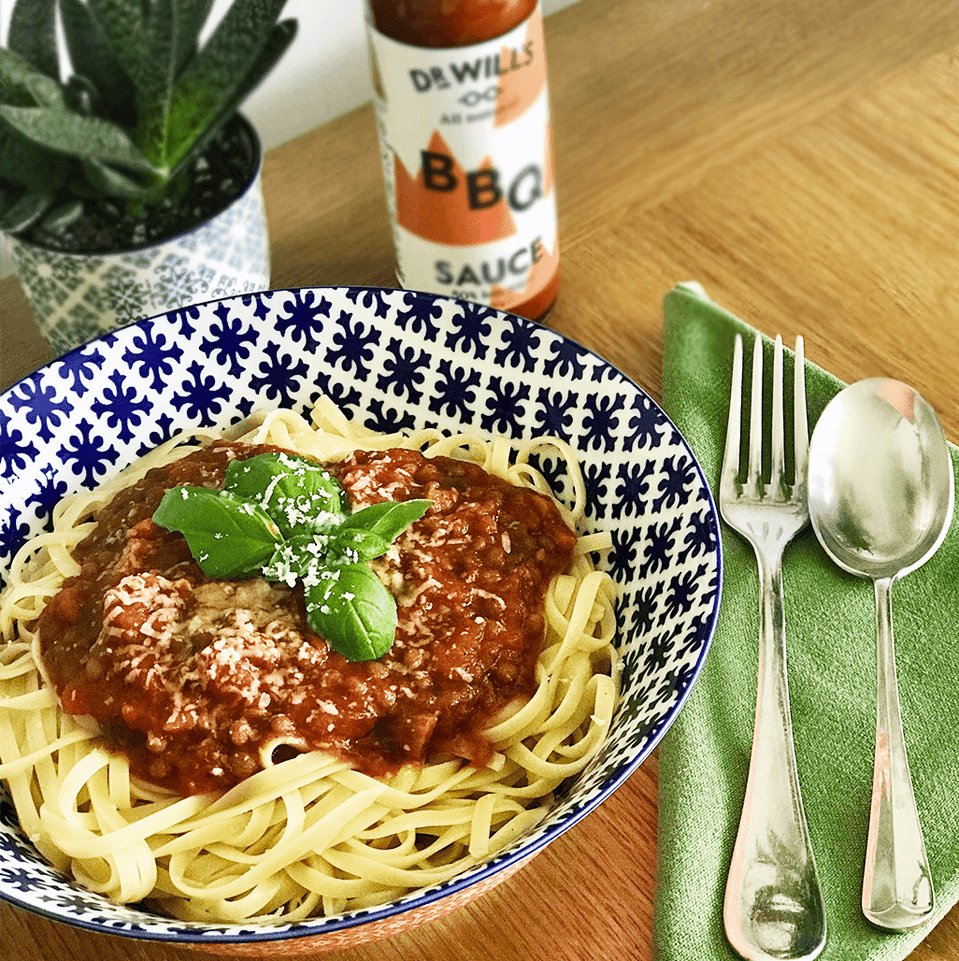 For this recipe, we've cheated slightly and used pre-cooked lentils to keep things simple. We've spooned our bolognese over spaghetti, but this recipe is versatile, and works just as well with sweet potato mash, wholesome brown rice or, for a lighter option, spiralised vegetables such as courgettes or butternut squash.  
Ingredients
1 pack (250g) pre-cooked lentils of your choice (we used Puy)
Olive oil
1 red onion, finely diced
1 medium carrot, finely diced
1 stick celery, finely diced 
2 gloves of garlic, finely diced
1 can plum tomatoes
3 Tbsp Dr Will's BBQ Sauce
Dried spaghetti
Parmesan cheese (or vegan alternative)
Fresh basil
Method
In a frying pan, heat up 1 tbsp olive oil over a medium heat and add the onions, garlic, carrot and celery, cooking for a few minutes until soft.
Add the lentils and plum tomatoes in, stirring to combine. Dollop in the Dr Will's BBQ Sauce, and simmer on a low heat for 10 minutes. While the sauce is bubbling away, cook the spaghetti according to package instructions. 
When the pasta is cooked, drain and serve, spooning the lentil sauce over the top, with a grating of parmesan and a sprig of fresh basil. 
A hearty and surprisingly simple recipe that is packed with protein and fibre, and filled with flavour. We just made meat-free Mondays a whole lot better.
Leave a comment