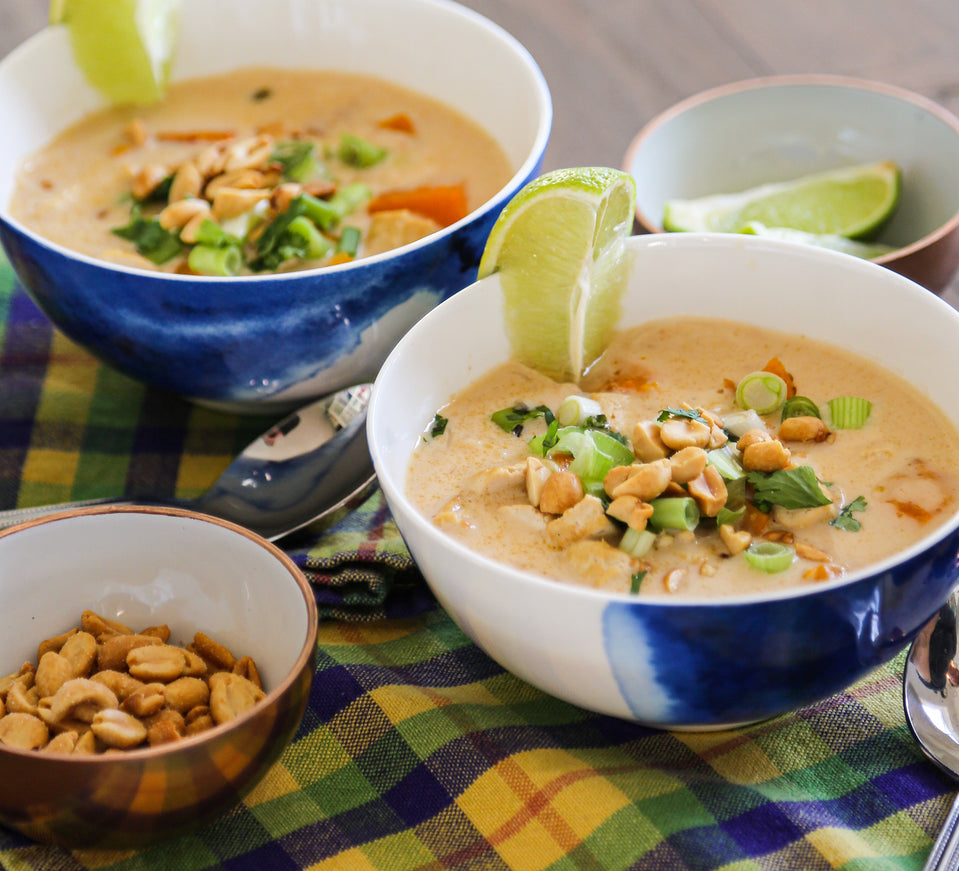 A delicious warming peanut-based noodle soup, starring our Sweet Chilli Sauce!
INGREDIENTS for 4:-
300g butternut squash, diced
500g tofu, diced
4 tbsp oil
1 tbsp garlic puree
1 tbsp ginger puree
1 tbsp liquid stock
2 x 400g coconut milk
1 tbsp Dr. Will's Sweet Chilli Sauce
3 tbsp soy sauce
1 tbsp sriracha
3 tbsp peanut butter
1 tbsp light brown sugar
1 tbsp fish sauce
400g rice noodles
50g roasted peanuts
2 limes
Spring onions, to garnish
Coriander, to garnish
Method
Preheat oven to 160C. Toss squash in oil and add to ovenproof dish. Roast for 35-40 minutes.

Fry the tofu in a large frying pan with oil, until browned.

Add the garlic & ginger to the frying pan stirring for 1-2 minutes. Add stock, coconut milk, sweet chilli, soy sauce, sriracha, peanut butter and 250ml water. Bring to a simmer and cover. Poach for 20 minutes.

Add the juice of one lime, with sugar & fish sauce into your pan.

Cook rice noodles, according to the pack instructions. Drain noodles.

Add a handful of noodles to a bowl top up with soup.

Garnish with squash, spring onions, coriander and chopped peanuts.
Leave a comment